U.K. Drops Portugal From Travel Green List, Gutting Airlines
(Bloomberg) -- The U.K. removed Portugal from its so-called green list of countries that can be easily visited, dealing a body blow to an airline industry crying out for a reopening of European travel.
No other countries are being added to the roster of places Britons can go to without having to quarantine on return. Portugal, a popular southern European getaway, was the only sun-spot of any size in the green category. From Tuesday, it reverts to amber, requiring 10 days of self-isolation.
Shares of airline companies sank after the decision, part of a planned three-week review of the U.K. traffic-light system, was reported earlier.
The U.K. setback will be devastating for an industry that's been leveled by the coronavirus pandemic. Carriers have pinned their hopes on a loosening of travel rules across the European region as vaccinations roll out, but the spread of new variants combined with a creeping rise in case loads have disrupted those plans.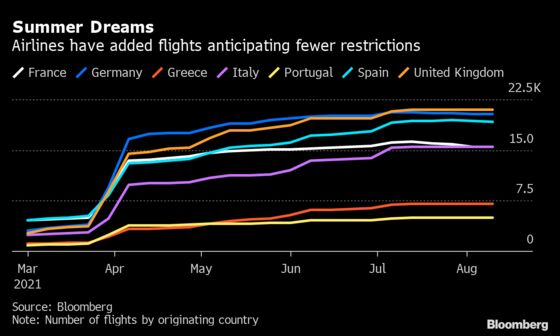 "It feels like the summer for U.K. airlines is fast ebbing away," said Rob Morris, who heads consultancy at aviation tracker Ascend by Cirium. He said ticket-price increases envisioned for the second half of the year may not materialize.
In addition to the U.K. move, the European Union on Thursday confirmed it left Britain and the U.S. off its list of countries from which unvaccinated travelers will be able to visit.
Shares of European airlines skidded, including Irish discounter Ryanair Holdings Plc, its U.K. rival EasyJet Plc and British Airways parent IAG SA. The Bloomberg EMEA Airlines Index lost 5.2% in London.
With the European high season already underway, airlines, hotels and tourist-dependent economies are seeing chances slip to generate much-needed revenue and avoid a second annual washout for their busiest travel season.
The U.K. decision had been seen as crucial for carriers' planning for their typically busiest months. However, the government had signaled it would likely remain cautious, as it tries to balance business needs with efforts to contain the Delta strain of Covid-19 first identified in India.
"It's a safety-first approach," Transport Secretary Grant Shapps said in an interview with Sky TV.
He cited a new threat -- a mutation of the Delta variant from Nepal -- saying, "We just don't know the potential for that to be vaccine-defeating mutation and simply don't want to take the risk" ahead of the government's plan to ease lockdown decisions in England on June 21.
| Changes | Countries |
| --- | --- |
| Green to Amber: | Portugal |
| Amber to Red: | Afghanistan, Bahrain, Costa Rica, Egypt, Sri Lanka, Sudan, Trinidad & Tobago |
Airlines lashed out at the government, saying they were puzzled by what they saw as inconsistency and a lack of transparency with a system designed partly to make travel-rule changes more predictable.
"With Portuguese rates similar to those in the U.K., it simply isn't justified by the science" to put it on the amber list, EasyJet Chief Executive Officer Johan Lundgren said in a statement.
British Airways said separately that Britain "urgently needs travel with low-risk countries, like the U.S., to re-start the economy, support devastated industries and reunite loved ones."
The abrupt switch in Portugal's categorization threatens to disrupt travel plans for thousands of people who are already there or have made plans.
Airline sales to the country jumped after it was placed on the green list from May 17, while Spain and Greece were left off. Many Brits own holiday or retirement homes in the Algarve region to the south.
More than 1,800 flights are scheduled to depart from the U.K. to Portugal in June, accounting for almost 345,000 seats available, according to Cirium data. Carriers will have a hard time quickly shifting schedules around, Morris said.
More broadly, the surprise retreat risks dampening demand for air travel.
Consumers expected the initial green list to be expanded, but it's been shrunk instead. Last summer, rapidly changing rules led to cancellations and disputes over refunds, prompting many people to avoid making new plans.
Dropping Portugal "will crush the confidence to travel, depress forward bookings and deter holidaymakers," Virginia Messina, senior vice president at the World Travel & Tourism Council, said in a statement.
On Thursday, British Airways put seven-night holiday packages to Portugal on sale, priced as low as 189 pounds ($267) per person.
Infections have been rising in Portugal, though at a rate far lower than earlier in the pandemic. In late May, the government approved increased testing and isolation for those who tested positive in Lisbon and the Tagus Valley.
Ironically, concerns about the virus's spread have been partly fed by reports of U.K. soccer fans partying and ignoring social-distancing rules in Porto for the Champions League final this past weekend. The regional health authority there warned people who were in the fan zone to reduce contacts over the next two weeks, the Telegraph reported.
The number of new cases identified in Portugal totaled 724 on June 2, according to the government health department, an increase of 42% from two weeks prior -- yet still dramatically below recent surge levels. Authorities said Wednesday that people would no longer be required to work from home starting June 14.
The U.K.'s traffic-light system requires expensive Covid-19 tests even from green-list countries. Those coming from amber and red nations, covering the vast majority of the globe, have to fulfill mandatory quarantines at home or in a hotel.
Just 12 countries and territories were on the initial green list. The inclusion of places like Australia and Singapore was largely meaningless as they don't allow most British arrivals.
"Any shred of public confidence is in tatters and the
traffic light system seems stuck on red," said Brian Strutton, acting head of pilots union Balpa.