U.K. Real Estate Adds to Woe for Star Stock Picker Neil Woodford
(Bloomberg) -- Britain's real estate woes are deepening the pain for one of the country's best-known stock pickers.
Neil Woodford, the former star money manager at Invesco Perpetual, raised his bets on some of U.K.'s largest homebuilders this year. Now he's suffering as Brexit uncertainty and higher sales taxes poke holes in a market that developers can't paper over.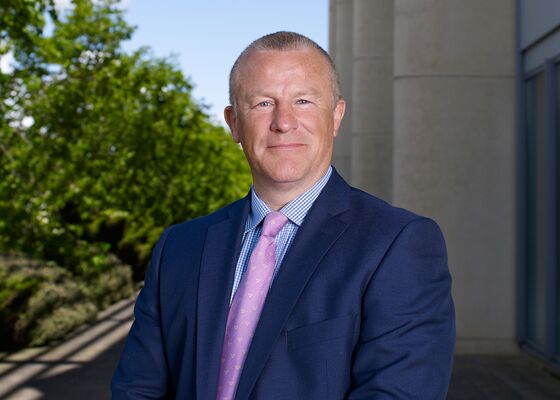 NewRiver REIT Plc, Taylor Wimpey Plc and Barratt Developments Plc -- among the top five holdings of Woodford Income Focus Fund at the end of October -- have plunged in 2018. The Focus fund and Woodford's main Equity Income money pool were down about 13 percent in the 12 months through October, trailing a 1.5 percent drop in the FTSE All-Share Index with dividends reinvested.
U.K. homebuilder shares dropped sharply in London trading on Thursday after Prime Minister Theresa May's proposed exit agreement from the EU prompted cabinet resignations and a challenge to her leadership. The Bloomberg U.K. Home Builders Index was down 0.9 percent as of 12:27 a.m. on Friday.
Woodford believes certain domestic-focused stocks are underpriced because investors incorrectly think the country is about to go into recession, a spokesman for the firm, which manages 11 billion pounds ($14 billion) said by email. Homebuilders "will see rising volumes, price, profits and cash as this new cycle unfolds," he cited Woodford as saying.
The loss is the latest in a series of setbacks for Woodford, who has a long track record of making money at Invesco. Bets such as Provident Financial Plc, biotech developer Prothena Corp. and Capita Plc have led to a 6 percent decline in his main money pool over three years, trailing 98 percent of his peers, according to data compiled by Bloomberg.
| Woodford Income Focus Fund's Holdings | Weight (%) |
| --- | --- |
| Imperial Brands | 8.97 |
| NewRiver REIT | 4.84 |
| Taylor Wimpey | 4.69 |
| Barratt Developments | 4.57 |
| Redde | 4.48 |
| Provident Financial | 4.19 |
| British American Tobacco | 3.54 |
| Honeycomb Investment Trust | 3.15 |
| Crest Nicholson | 3.03 |
| Bovis Homes | 2.81 |
Source: Company website, data as of end of October
The Warren Buffett devotee who prides himself on contrarian views turned more confident about the U.K.'s outlook last year, saying investors have become far too pessimistic after the Brexit vote. He began pivoting towards domestically-focused companies.
Woodford said the government's latest budget statement in October confirmed his optimistic outlook on the U.K. economy. "It was, consequently, very reassuring and especially so for the housebuilders,"​ he said on the fund's web site.
Taylor Wimpey fell this week after predicting that sales would be broadly flat next year due to "heightened political and economic uncertainty." The outlook follows a profit warning last month from Crest Nicholson Holdings Plc after sales in London its suburbs dried up. Barratt reported a decline in reservation rates.