U.K. Property Sales Tax Cut Targets Mid-Priced Homes
(Bloomberg) -- House hunters in the U.K. face a tough choice: buy now and take advantage of a sales-tax break, or hold off in case the value of their new home drops in the recession.
The government on Wednesday raised the price threshold at which the sales tax is paid to 500,000 pounds ($631,000) until the end of March. At that level, 90% of buyers won't pay any tax, and those purchasing more expensive homes will save as much as 14,999 pounds.
Yet some buyers will worry that the recession, which may be the country's worst in three centuries, could drive down the value of their property, erasing any tax savings. Prices are already dropping, and they could fall by about 7% this year, according to a forecast published by broker Knight Frank before Chancellor of the Exchequer Rishi Sunak announced the tax plan.
John Screeton, a government employee, plans to sell a home in London's Brixton district, then buy two, one with his partner in London and a second in the seaside town of Hove for his parents.
"We have a place to sell, so I don't want to wait too long and have the value decrease any further," he said. "The only way to benefit is if we sell now, then we wait and think about buying in six or 12 months' time, based on an assumed dip" in prices. But that strategy carries a risk.
"You don't know how quickly the economy's going to bounce back, do you?" he said.
Sunak's tax relief is part of a 30 billion-pound plan to save jobs and inject confidence into the U.K.'s coronavirus-battered economy, which he said contracted by 25% in just two months, the same amount it had grown in the past 18 years. Raising the threshold for the so-called stamp duty will mainly boost the middle of the U.K. housing market, which has been hit by reduced mortgage availability in recent weeks.
About 95% of home sales in less expensive areas in and around London will benefit, according to analysis by Zoopla. There are 28 districts in England and Wales where 90% of homes would be stamp-duty free, compared with 5% currently, the property website said. The cheapest homes are already exempt from the tax.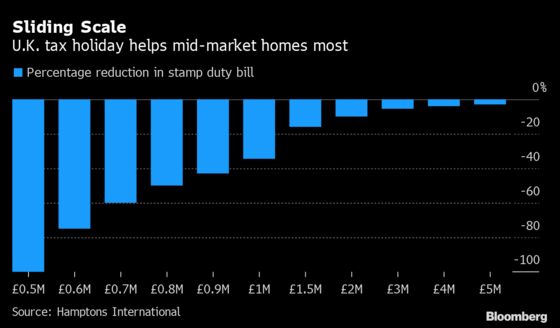 Shares in the U.K.'s largest home builders have risen since the possibility of a tax break was first reported at the end of last week. Persimmon Plc, the country's largest housebuilder, is up 11% in the past week. The company said on Thursday that sales reservations have recovered strongly since the government eased its lockdown measures.
"We see these savings as a small gain to the housebuilders, most notably for those with higher average selling prices," Jefferies analysts including Glynis Johnson wrote in a note on Wednesday. These include Berkeley Group Holdings Plc, Redrow Plc, Crest Nicholson Holdings Plc and Countryside Properties Plc, according to the note.
The tax bill on an 800,000-pound home will fall by about 50% under the plan, while on a 5 million-pound property the savings will be less than 3%, according to analysis by broker Hamptons International.
"Today's announcement to temporarily cut stamp duty will act as a shot in the arm for U.K. housing and further bolster a market which has come out of a state of suspension," Tim Hyatt, head of residential at broker Knight Frank, said in an emailed statement. "However, in order for a fully functioning market to return, the availability of higher loan-to-value mortgages must also be improved to support first-time buyers across the country."
A Bank of England stress test suggests home values may fall 16% because of the economic downturn caused by the coronavirus. Lenders have responded by pulling low-deposit mortgage products. Nationwide Building Society, the U.K.'s largest home-loan provider, has raised the minimum deposit that buyers need, a move designed to to protect itself if prices decrease.
The tax relief will also apply to landlords and second-home buyers, but a 3% surcharge for additional property purchases will remain in place. That means investors purchasing rental properties for less than 500,000 pounds will only pay the surcharge, with higher-value deals making more limited savings, according to the Treasury. It marks a change in the approach of the ruling Conservative party, which has been shifting the tax rules to make it easier for first-time buyers to compete with investors since 2015.
For Tom Cartwright, a freelance IT consultant who's had an offer accepted on a house in London's Fulham district, Sunak's tax break couldn't have come at a better time. He's planning to get married.
"Rishi is going to get a special toast at my wedding for funding half of it," Cartwright said. "He's probably contributed more to our wedding than we have ourselves or any of our family."