U.K. Promotes Global Airline Carbon Market After Brexit
(Bloomberg) -- Britain is urging the European Union to support a global carbon market for emissions from airlines, a move that would probably supersede the bloc's own trading program.
Aviation is too big of an industry to be covered piecemeal by regional pollution rules, according to Liz Sugg, the U.K.'s aviation minister. Flights within the union are covered by the EU's carbon market, the world's biggest emissions trading system. It's not clear whether the U.K. will remain in that market after Brexit on March 29.
"Given the international nature of the aviation sector, measures with a global scope are required to ensure action is taken -- not just on certain routes or in certain regions, but at a global scale that captures the majority of emitters," Sugg wrote in a letter to the lobby group Transport & Environment seen by Bloomberg News.
Britain's letter highlights tensions within the EU about the best way to tackle climate change. The 2015 Paris climate deal allows nations or groups to set their own targets and policies. Scientists say the emission-reduction targets implied in that agreement won't be met unless most, if not all, countries deploy very ambitious plans.
Britain is urging the EU not to object to the standards being put together for a market governed by the International Civil Aviation Organization. That institution has regulated airlines for the United Nations since 1944. Countries have until Dec. 1 to object. A day later, envoys and lawmakers from around the world gather in Poland to discuss rules needed to implement the landmark Paris accord.
The U.K. Department of Transport confirmed Sugg's letter but declined to comment further.
Airline Demand for Carbon May Drop 66% If EU Adopts Global Deal
The EU countries have agreed to monitor, report and verify emissions in the industry as a first step in entering the UN program.
"Implementing this global scheme will encompass many routes that are currently not covered by any climate change measures, including from some of the world's largest aviation nations, and supports major emitters to take a consistent approach to global aviation climate action," the British official said in the letter.
With aviation emissions forecast to triple by 2050, regulation is inevitable. Airlines have said they prefer a single international standard, which would be cheaper and easier to deal with than a patchwork of local programs. Their proposed market will place a price on emissions, but only those above 2020 levels.
There are "too many uncertainties" about the effectiveness of ICAO's plan for reducing emissions, said Andrew Murphy, the aviation manager at Transport & Environment. "Certainly, the U.K. should not be aligning with industry and Trump to dismantle the EU emissions trading system, the most effective measure in place to try and rein in aviation's soaring emissions."
The problem with the EU's coverage of airline emissions is that it only puts a price on domestic flights. When the EU tried to expand its coverage to international trips into and out of Europe, it triggered an outcry from nations including the U.S., China and Brazil that argued the measure was beyond the bloc's authority.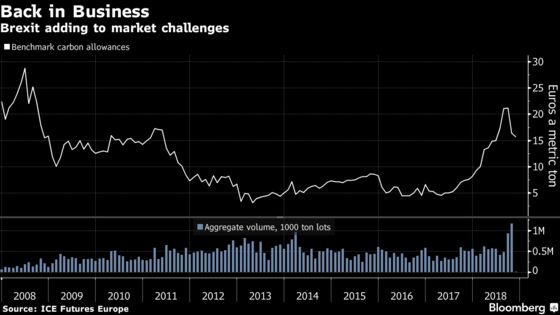 Emissions from international flights were largely omitted from the Paris deal because delegates feared divvying up responsibility for global routes could derail the broader agreement.
The commission has proposed EU nations establish a union-wide position on the UN market, according to a commission official. This plan will be discussed in the EU Council next week.
"The EU clearly wants to curb aviation emissions on a global basis," said Jahn Olsen, an analyst in London for Bloomberg NEF. The ICAO market "gives it a way to do that."