U.K. Plans Deeper Carbon Cuts to Spur Climate Change Fight
(Bloomberg) -- Prime Minster Boris Johnson's government will set a goal to cut U.K. carbon pollution by 78% by 2035, deepening an already ambitious target as he seeks to spur global momentum in the fight against climate change and boost relations with U.S. President Joe Biden.
The government will adopt the target -- a cut relative to 1990 levels -- in line with the recommendations of the Committee on Climate Change, the Department for Business, Energy and Industrial Strategy said Tuesday in an emailed statement. For the first time, aviation and shipping emissions will be included, it said.
Johnson is under pressure to show leadership on tackling climate change as the U.K. prepares to host the next round of United Nations climate talks in Glasgow in November. The move is significant because it builds on his already ambitious target announced just last year to cut emissions by 68% in the four decades through 2030 -- the deepest cuts in greenhouse gas emissions in the Group of 20 nations. That goal remains in place.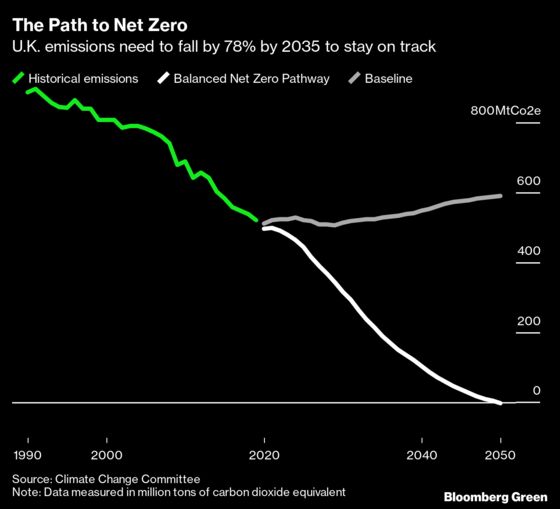 "We want to continue to raise the bar on tackling climate change, and that's why we're setting the most ambitious target to cut emissions in the world," Johnson said in the statement. "We want to see world leaders follow our lead and match our ambition in the run-up to the crucial climate summit."
The target was announced before a major climate summit at the White House, in which President Joe Biden is seeking to convince other countries to step up their ambition on cutting emissions. Biden is also expected to announce his own target for the U.S. to cut greenhouse gases by at least 50% compared to 2005 levels. His climate envoy, John Kerry, is calling on all countries to set 2030 targets that align with efforts to limit global warming to 1.5 degrees Celsius.
The U.K.'s new target marks a key point in the country's ultimate aim to cut emissions to net zero by 2050. Johnson wants to push as many countries as possible to adopt the same goal of eliminating net emissions by mid-century. UN scientists are concerned that too much warming poses a greater risk of species extinctions and increases in sea levels that threaten coastal communities.
"This major shift in gear from the government makes destructive projects like new road building and airport expansion even harder to justify," Rebecca Newsom, Greenpeace U.K.'s head of politics, said of the announcement Tuesday.
The pollution restrictions are likely to require major economic changes. Johnson has outlined a series of measures in recent months aimed at protecting the climate, including banning the sale of non-electric cars by 2030. The government has also backed investment in electric vehicles, hydrogen, wind and nuclear power.
The new target, set to become law by June, will also affect international flights and maritime. International Air Transport Association Director General Willie Walsh, until recently chief executive officer of British Airways parent IAG, said the industry would be able to achieve the new goal.
"The industry is coming together. As we've gone through the worst financial crisis in our history, airline CEOs continue to be focused on the environment," he said in an interview at the World Aviation Festival. "There are no arguments here."
However, EasyJet CEO Johan Lundgren urged government officials to provide cash grants, cheap loans to boost research and development and loan guarantees for hydrogen and battery technologies.
"Government funding and support are critical and we can't do it on our own," he said in a webinar Tuesday. "Of course, you're going to need governments supporting that transition."
The new target follows the latest advice from the CCC, which in December recommended a "carbon budget" for the U.K. that included curbing emissions from aviation and shipping. Until now, those sources have been excluded as nations around the world seek to reach agreement on how to deal with industries whose emissions straddle borders.
However, BEIS said it wouldn't follow each of the policy recommendations of the CCC, noting that it is instead setting new policies based on its own analysis. In particular, it said people wouldn't be required to make dietary changes. The CCC had called for policies to encourage a reduction in eating of meat and dairy, saying that meat consumption needs to fall by 35% compared to today's levels in its central scenario.
"The government will look to meet this reduction target through investing and capitalizing on new green technologies and innovation, whilst maintaining people's freedom of choice, including on their diet," BEIS said.