U.K. Organic Foods Are Being Stockpiled Abroad Ahead of Brexit
(Bloomberg) -- Some British organic food producers are stockpiling cheese and pork overseas so that they'll still be able to sell the products if the U.K. leaves the European Union without a deal.
A no-deal Brexit risks shutting British producers out of some export markets because their foods would no longer be recognized as organic, a status it could take months to obtain. While the risk of a no-deal outcome by end-March has eased, some companies are still preparing for the worst by piling up goods in countries where they sell or process foods.
One example is U.K. milk cooperative Omsco Partners Ltd. It has stored a year's worth of cheddar -- valued at about $4.6 million -- in New Jersey so it can sell the cheese as organic in America whatever the outcome. The move highlights the threat to trade for organic food, which is sold at a premium. If foods lose their organic status outside of the U.K., then producers would have to sell them as non-organic abroad, unless they arrived before the divorce.
"Anything that goes out before March 29, the organic status is fine because it has the paperwork," said Vicky McNicholas, managing director at Helen Browning's Organic, which exports organic pork to Germany for processing before bringing it back to the U.K. "Any organic company that exports their products is going to be switched off overnight."
The pork producer has stockpiled 6 tons in Germany for processing while the EU still recognizes the meat as organic. That will allow it to then ship the final product back to Britain for sale, where the U.K. Department for Environment, Food and Rural Affairs anticipates that it will continue to acknowledge organic produce from the EU, even after a no-deal exit.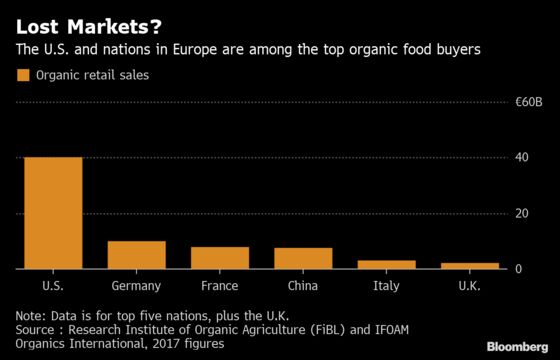 Without a deal, it could take up to nine months to re-apply for organic status. The Soil Association said that some British producers are already talking about curbing output, cutting jobs or going out of business if they can't find a solution soon. The group has written to U.K. Environment Secretary Michael Gove highlighting the impact of Brexit uncertainty on organic producers.
There are also concerns that a no-deal Brexit will cause border delays, slowing trade. Organic tea company Clipper Teas Ltd. has piled up 250 million tea bags in the U.K. and mainland Europe to protect itself against delays at ports. It said it's working with partners to continue to deliver certified products.
Prime Minister Theresa May has promised to put a revised deal to Parliament by March 12, and if that is rejected, lawmakers will be offered votes on whether to exit the EU without a deal or to delay Brexit.
"Even the step back from the no-deal is just prolonging the agony," McNicholas said. "It's exhausting."