U.K. North Sea Deals Boom With Total Already Surpassing 2020
(Bloomberg) -- In just over two months, North Sea dealmaking has surpassed last year's total as companies look to make the most of crude's emergence from the pandemic-induced slump.
Disclosed oil and gas acquisitions have reached $2.7 billion this year, according to consultant Wood Mackenzie Ltd. A big chunk came within 24 hours this week as two closely held buyers -- NEO Energy, backed by Norwegian investment firm HitecVision AS, and newcomer Waldorf Production U.K. Ltd. -- snapped up two separate deals worth more than $1 billion combined.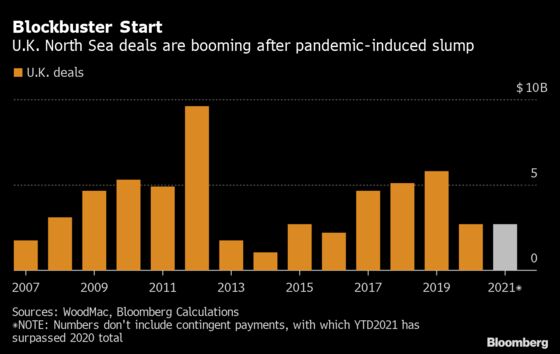 This "blockbuster start to the year" makes the U.K. North Sea one of the hottest markets globally, Neivan Boroujerdi, WoodMac's principal analyst for Europe upstream, said in a note Tuesday. He estimates another $5 billion worth of assets could change hands in the region this year, as Big Oil continues its exodus from the aging fields, replaced by younger and smaller companies.
It will now pump around 80,000 barrels a day -- lagging only behind Total SE, BP Plc, Harbour Energy Plc and Royal Dutch Shell Plc, according to WoodMac.