U.K. Mulls No-Interest Loans to Combat Rise of Problem Debt
(Bloomberg) -- The U.K. government will develop plans to offer no-interest loans for low-income borrowers as part of a package of measures designed to tackle problem debt and reduce their reliance on payday lenders.
After British consumers last year spent more than they earned for the first time in three decades, Chancellor of the Exchequer Philip Hammond will use his budget speech Monday to set out plans to trial a policy that's had success in Australia. Working with debt charities and banks, the U.K.'s finance chief aims to offer 3 million high-cost credit users more affordable alternatives to so-called payday loans to help avoid falling more deeply into debt.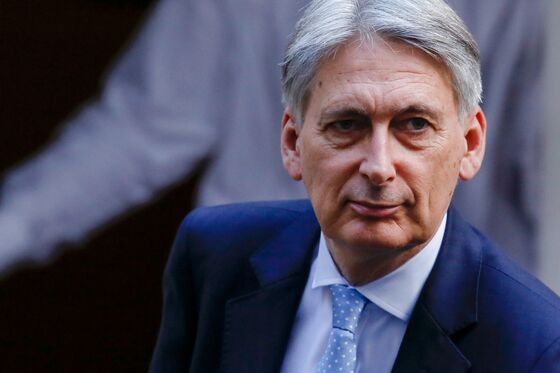 Hammond is attempting to craft his economic blueprint just months before the U.K. exits the European Union, which is casting deep uncertainty over the near-term future. At the heart of his dilemma is finding 20 billion pounds ($25.7 billion) promised to boost the National Health Service as growth remains sluggish and in spite of pledges not to raise taxes. That's left little room for handouts to low-income groups suffering from years of wage and benefit squeezes that have pushed many into unsustainable borrowing.
Other problem debt measures to be announced include:
Increasing to 60 days from six weeks the period of time before creditors can take action against borrowers struggling to pay bills
A 2-million-pound prize for entrepreneurs who develop technological solutions that enable social and community lenders to compete with the high-speed loans provided by high-cost credit providers
The Bank of England has raised concerns about pockets of risk, including ballooning consumer credit, and raised interest rates in August to combat inflation from spending growth and labor shortages.
High-cost credit providers are already struggling after a surge in compensation claims. Wonga Group Ltd. was placed under administration in August, while Provident Financial Plc lost more than 22 percent of its value this year as the company continues to struggle to recover from botched plans to replace debt collectors with technology.
The Hammond budget also will set out new funding for transport improvements including:
28.8-billion-pound fund for 2020-2025 to pay for improving and building new roads, the biggest cash injection for England's largest highways
420 million pounds to fix potholes, repair roads and bridges after hot summer and harsh winter
150 million pounds to improve local interchanges
Transforming Cities Fund extended by 680 million pounds to support local transport needs
90 million pounds to trial next generation transport methods