U.K. Midcaps Have a New Biggest Loser as Analysts Cut Indivior
(Bloomberg) -- Indivior Plc extended its two-day plunge to more than 50 percent after a court ruling that clears the way for a rival to resume selling a copycat version of one of its blockbuster opioid addiction treatments.
The share-price dive makes the company spun-out of consumer staples giant Reckitt Benckiser Group Plc four years ago the worst-performing stock on the U.K. midcap FTSE 250 index in 2018, down about 77 percent.
Analysts cut their ratings, price targets and earnings estimates for Indivior as the company warned it could lose as much as 80 percent of its market share "within a matter of months."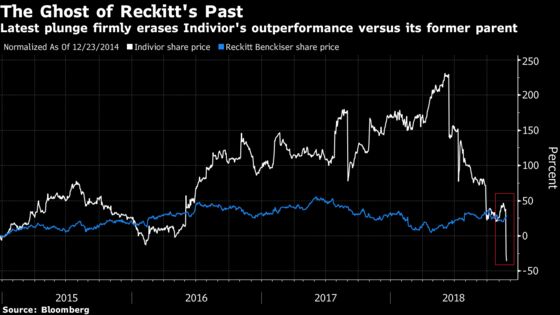 Here's a summary of what analysts had to say:
RBC, Nicholas Keher, Zoe Karamanoli
"Buyers will need to be brave," although the stock is likely to recover somewhat from the lows based on hopes that the alternative treatment, Sublocade, can grow in sales.
Warns that prior investment case rested on a window of opportunity to switch clients from Suboxone to Sublocade, but that opportunity may now be lost, as generics enter the market.
Reduces group full-year 2019/20 revenue estimate by about 43 percent, but says cost-saving measures could keep the business at break-even.
Cuts rating to sector perform from outperform and reduces price target by about 63 percent to 130 pence a share.
Jefferies, James Vane-Tempest
"Seismic changes" are needed to salvage remaining intellectual property, while an inability to invest due to fear of breaching covenants "severely dampens" recovery prospects.
Lowers earnings estimates for 2019-2022 by a range of 88 percent to 40 percent, as Indivior will have to significantly cut prices, launch its own authorized generic, cuts its cost base, and delay R&D activities.
Now assumes it will have to either delay, or find a partner for, marketing its schizophrenia treatment Perseris, as it will not have the internal resources to market it alone, while also protecting its main asset, Sublocade.
Cuts to hold from buy and reduces price target by about 54 percent to 120 pence.
Stifel, Max Herrmann, Christian Glennie
While "clearly disappointing," the value in Indivior lies in successful commercialization of Sublocade, and with no changes to Sublocade forecasts, "we see significant upside potential from the depressed share price."
That said, "we are surprised by this decision," and the news will have a significant impact on near-term cash flows, as generic competition from Reddy's is likely to arrive 12-18 months earlier than Stifel had anticipated.
Keeps buy rating, but cuts price target to by 8 percent to 440 pence.
Dr. Reddy's is very likely to launch the generic drug immediately, and it has adequate capacity to severely impact Suboxone film sales, given how quickly it previously flooded the market with stock in June.
Reddy's is likely to enjoy limited competition for the first few years, before more competitors enter the market, resulting in a significant impact on Indivior's earnings.