U.K. Manufacturing Sees 'Worrying Turnaround' as Growth Slumps
(Bloomberg) -- U.K. manufacturing growth slumped to the lowest since the aftermath of the Brexit vote last month.
IHS Markit's Purchasing Managers Index for the sector fell to 51.1 in October, the lowest since July 2016 and well below economists' estimates for reading of 53. The survey indicates that factory output could be on course to drop 0.2 percent in the fourth quarter, Markit said.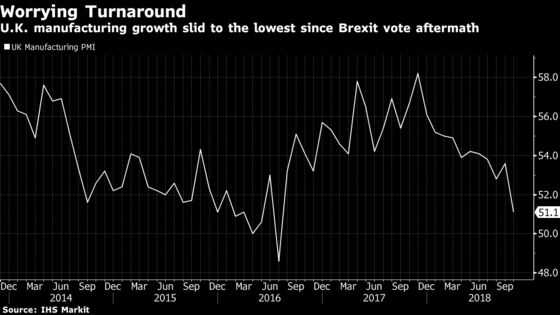 The pound pared gains after the data, trading 1 percent higher at $1.2895 as of 9:43 a.m. London time.
The slowdown follows a similarly dismal report for euro area manufacturers earlier this month. U.K. companies are suffering from Brexit uncertainties, global trade tensions and weaker demand for cars, hurting domestic and foreign demand.
"October saw a worrying turnaround in the performance of the U.K. manufacturing sector," said Rob Dobson, a director at IHS Markit. "New orders and employment both fell for the first time since the Brexit vote."
Firms are also taking an "increasingly defensive position," Dobson said. That means more cost cutting and decreases in purchasing activity and inventories. With Brexit talks still deadlocked, business optimism remains low compared with its long-run average.
Markit's report comes on the day the Bank of England announces its latest interest-rate decision and forecasts. Policy makers hiked rates in August, and said more increases will be necessary in the coming year.
Although growth likely picked up in the third quarter, the report suggests the U.K. economy may face a challenging end to 2018. Markit publishes similar indexes for the construction and dominant services sector over the next few days.