U.K. Inflation Unexpectedly Stays at 2.4% as Food Costs Fall
(Bloomberg) -- An anticipated pickup in U.K. inflation failed to materialize last month as food, clothing and transport prices declined.
Annual consumer-price growth stayed at 2.4 percent in October, the Office for National Statistics said on Wednesday. The figure is below the 2.5 percent predicted by both the Bank of England and economists in a Bloomberg survey.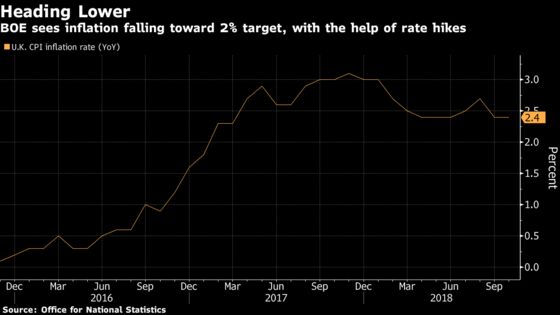 Food and non-alcoholic drink prices fell 0.2 percent from September, clothing and footwear declined 0.5 percent and the cost of transport equipment and services was down 0.4 percent. All posted a stronger price performance in the same month last year.
These downward effects were offset by the highest auto-fuel costs in almost four years and a 2.2 percent jump in energy bills after British Gas hiked tariffs for more than 3 million customers.
The pound was little changed after the figures at $1.2963, down 0.1 percent on the day.
BOE policy makers say gradual interest-rate increases will be needed to keep inflation falling toward its 2 percent target, assuming Britain avoids a disorderly Brexit.
Expectations that officials will tighten policy after Britain leaves the European Union next year were reinforced by figures Tuesday showing wages growing at their fastest pace in almost a decade, a sign that home-grown prices pressure are building.
The fall in sterling following the 2016 Brexit referendum forced up the price of imports and sent inflation spiraling. But the squeeze is now over, with pay decisively outpacing prices.
Core inflation, which excludes volatile food, energy, tobacco and alcoholic drinks, held at 1.9 percent last month, as forecast.
Producer input prices rose 0.8 percent, boosted by the cost of crude oil. It left the annual rate of increase at 10 percent. Output prices rose 3.3 percent from a year earlier.
Annual house-price growth accelerated to 3.5 percent in September. London, the worst-performing region, saw values fall 0.3 percent.