U.K. Housebuilders Are Surging as Chance of No-Deal Brexit Fades
(Bloomberg) -- Housebuilders, one of the most sensitive sectors to the risks associated with Brexit, were given a boost after a series of defeats suffered by Prime Minister Theresa May in Parliament sent the chance of a second referendum to a new high.
May lost three votes on Tuesday, including an amendment giving Parliament a vote on the next steps necessary should May's Brexit plan be defeated, as expected. This has been interpreted as reducing the likelihood of a no-deal Brexit, which would cause the greatest shock to the U.K. economy and housing sector. Shares of Britain's four-biggest homebuilders gained in London trading.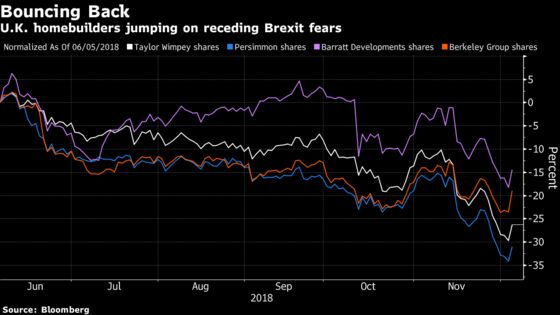 "The prospect of 'no deal' is further away than ever given recent events which means that it's probably May's deal or some form of soft Brexit or remain," CMC Markets Chief Market Analyst Michael Hewson said. Add to this that the chances of a second referendum on Brexit have increased to a new high of around 44 percent, according to data compiled by Bloomberg based on bookmaker odds.