U.K. House Prices Jump Most in Five Years 
(Bloomberg) -- U.K. house prices posted their biggest annual gain since 2015 this month as a revival in the housing market defied a wider economic malaise.
Values climbed 5.8% from a year earlier to an average of 227,825 pounds ($294,000), Nationwide Building Society said Friday. The report comes a day after Bank of England data showed mortgage approvals reached a 13-year high.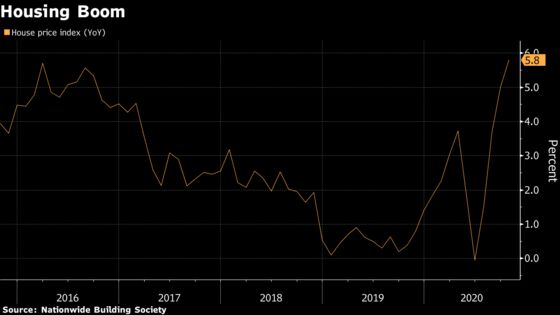 In October alone, prices gained 0.8% as a government tax cut fed post-lockdown demand to move. It left values up 3.5% over the past three months, the biggest gain since 2009.
Still, that jump stands in contrast with reports from other parts of the economy, which are already losing steam in their recovery from the initial wave of coronavirus disruption.
With new restrictions to control a resurgence in the virus becoming more severe, Lloyds Bank said on Friday its measure of U.K. business confidence fell for the first time since May.
The stand-out strength in the housing market is in large part due to a government decision to suspend a tax on home purchases until the end of March. There's also evidence of pent-up demand following the lockdown, as well as a desire for bigger properties as people work from home more regularly.
Many analysts say gains will reverse next year as unemployment rises and aid packages come to an end. That could be compounded by more severe restrictions to control the spread of the virus.
"The outlook remains highly uncertain and will depend heavily on how the pandemic and the measures to contain it evolve," said Robert Gardner, Nationwide's chief economist. "Activity is likely to slow in the coming quarters, perhaps sharply."