U.K. House Prices Edge Higher But Annual Growth Remains Below 2%
(Bloomberg) -- U.K. house-price growth edged higher this month, but the annual pace of gains remained subdued, according to Nationwide Building Society.
Average values rose 1.9 percent in November compared with a year earlier, the firm said in a report Friday. The measure fell below 2 percent for the first time in five years last month.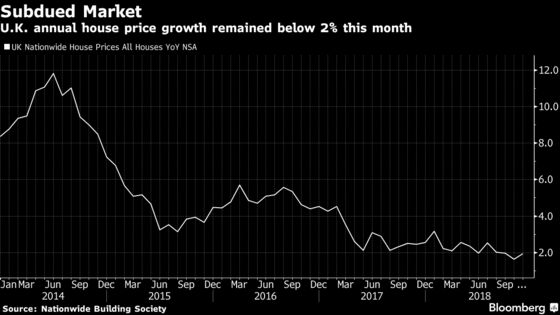 The property market is moderating after decades of steep price gains made homes less affordable. The uncertainty of Brexit is also denting demand and clouding the economic outlook.
"Looking forward, much will depend on how broader economic conditions evolve," said Robert Gardner, Nationwide's chief economist. "In the near term, the squeeze on household budgets and the uncertain economic outlook is likely to continue to dampen demand."
Nevertheless, low unemployment and interest rates are preventing a deeper slowdown.
"If the uncertainty lifts in the months ahead and employment continues to rise, there is scope for activity to pick-up through next year," Gardner said.