U.K. House-Price Growth Still Subdued on Brexit, Nationwide Says
(Bloomberg) -- U.K. house-price growth remained tepid as concerns about the economic outlook weighed on the market, according to Nationwide Building Society.
Values rose 0.4 percent in February from a year earlier, better than the 0.1 percent pace in January, but far below the pace recorded in 2018. From January, prices fell 0.1 percent to an average price of 211,304 pounds ($281,000).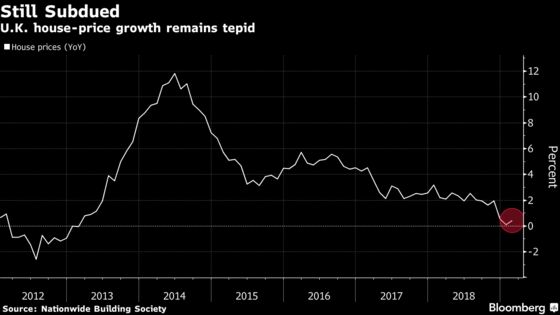 The housing market is feeling the effects of Brexit uncertainty as both buyers and sellers wait to see what Britain's future ties with the European Union will be. Still, a shortage of homes, record employment and low interest rates are preventing a sharp downturn in prices.
"Indicators of housing market activity, such as the number of property transactions and the number of mortgages approved for house purchase, have remained broadly stable in recent months, but survey data suggests that sentiment has softened." said Robert Gardner, Nationwide's chief economist.