U.K. to Move Ahead on Nuclear Project Without China Support
(Bloomberg) -- The U.K. government is planning to press ahead with its flagship Sizewell C nuclear project even without Chinese funding, according to a person familiar with the situation.
The proposed 20 billion-pound ($27.5 billion) plant in eastern England is still viable, despite the government exploring ways to remove state-owned China General Nuclear Power Corp. from all future projects in the U.K., the person said, speaking on condition of anonymity.
The government committed in December to financing at least one large-scale nuclear project by 2025. Sizewell's majority partner, Electricite de France SA, is in talks with the U.K. on options that may now exclude CGN's support. The Chinese company has a 20% stake in the development of the power station.
"Chinese nuclear energy companies have state-of-the-art technology and strong investment capabilities," China's U.K. embassy said in a statement. "If such cooperation is to be suspended under duress, this will be against U.K.'s interest." CGN didn't immediately respond to an emailed request for comment. EDF declined to comment.
The move underlines how Prime Minister Boris Johnson's administration is hardening its stance toward China due to security issues. Members of his Conservative Party have repeatedly expressed concern about China's increasing involvement in critical aspects of U.K. infrastructure.
"The government needs to carry out an integrated strategic review of our dependency on China," said Iain Duncan Smith, a former Conservative leader and Tory Member of Parliament. "Nuclear is critical to our electric power and we just can't trust the Chinese."
With their huge construction price tag, the government has agonized over how best to finance future nuclear plants. Options being considered for Sizewell C include the government taking an equity stake and the regulated asset base model, where the taxpayer is liable for some construction risks. This would help get private-sector financing at a lower price.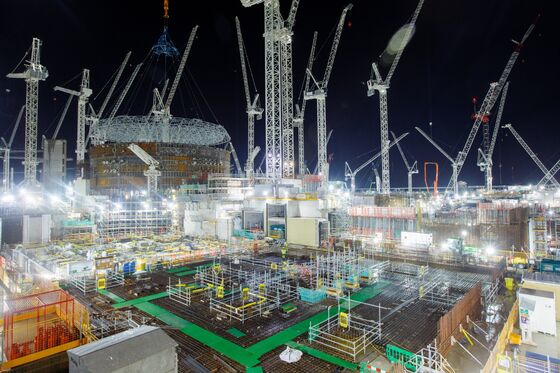 CGN is also a 33% investor in the Hinkley Point C facility, currently under construction in Somerset and one of the biggest infrastructure projects in the country. With EDF scheduled to permanently shut five of the U.K.'s eight nuclear plants by 2024, a row back on new capacity to replace them would make achieving the country's net-zero emissions target much more difficult.
A third U.K. project, Bradwell B, with CGN at the helm and a Chinese reactor design, was always going to be politically difficult. The technology hasn't been approved yet.
"Bradwell has a very different proposition to Hinkley and Sizewell given the different technology and ownership structure," said Josh Buckland, a director at consulting firm Flint Global. "Government hasn't yet had to make any firm decisions on the project so has avoided having to confront this."
The U.K. government has been stepping up its oversight of security concerns involving Chinese companies. Johnson blocked Huawei Technologies from participation in the rollout of Britain's 5G wireless network, and earlier this month Britain's national security adviser opened a probe into the takeover of the country's biggest chip plant by Chinese-owned Nexperia NV.
"All nuclear projects in the U.K. are conducted under robust and independent regulation to meet the U.K.'s rigorous legal, regulatory and national security requirements, ensuring our interests are protected," a spokesperson for the Department for Business, Energy and Industrial Strategy said in a statement.
It noted that "nuclear power has an important role to play in the U.K.'s low-carbon energy future."