U.K. Extends Energy Price Cap for Utilities for Another Year
(Bloomberg) -- The U.K. will extend for one more year a price cap on the amount utilities can charge customers for energy.
Business and Energy Secretary Alok Sharma said that the cap, which protects around 11 million households, is key to ensuring consumers don't overpay on their energy bills.
The price cap has been an overhang on earnings for suppliers from Centrica Plc to EON SE, limiting the amount they can charge customers that stay on default tariffs rather than pick better deals. The government is acting on a recommendation from energy regulator Ofgem in August that the cap should be extended until the end of 2021.
Ofgem lowered the price cap in the summer after U.K. wholesale gas prices plunged to a 20-year low. The limit is likely to rise in April next year if prices continue to recover over the coming months. The regulator adjusts the level of the cap twice a year to reflect the estimated costs of supplying electricity and gas to homes for the next six-month period.
"Switching energy supplier to find the best value deals is still the best way to save on bills, but this government is determined to make sure all customers are treated fairly and get the protection they deserve," Sharma said in a statement.
This chart shows prices rising back in line with the five-year average after dropping earlier in the year: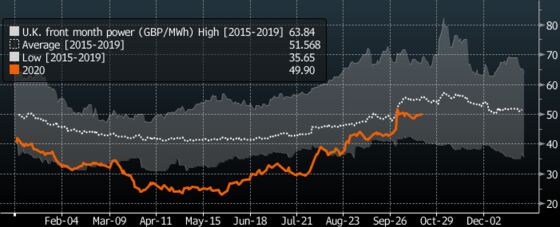 The cap started in 2018 following a two-year investigation into competition in the energy market. The probe found that 70% of the customers at the six largest energy firms were on Standard Variable Tariffs, the most expensive deals. There has been a shake up at the so-called Big Six utilities after SSE Plc sold its retail arm to Ovo Energy Ltd. at the beginning of this year.
The price cap may be in place until 2023 but could be scrapped earlier if the conditions for effective competition in the domestic retail energy market are in place, according to the regulator.
Households on standard variable and default energy tariffs will save between 75 pounds and 100 pounds a year on dual fuel bills, the U.K. government said..