U.K. Energy Industry Backs End to New Polluting Natural Gas Plants
(Bloomberg) -- The U.K.'s energy industry is calling for an end to investment in new natural gas-fired power plants unless there are plans to eliminate the emissions by the 2030s. 
The move seeks to bring Britain's power sector in line with a government plan laid out last week on how to achieve net-zero emissions for the country by the middle of the century. Industry group Energy U.K. supports the plan -- which would see greenhouse gas emissions cut by 78% from 1990 levels by 2035, with those from electricity falling faster -- according to a report published Wednesday.
"The current challenges facing the energy sector, and the wider economy, only emphasize the need to accelerate our journey to a future where we won't be at the mercy of volatile fossil fuel prices," said Emma Pinchbeck, Energy U.K's. chief executive. The group has more than 100 members, including British Gas and EDF Energy.
The announcement comes as the U.K. is scheduled to host the United Nations' COP26 climate talks starting later this month. The conference in Glasgow is being billed as a make-or-break gathering to stave off the worst effects of climate change.
The U.K.'s power sector has been the driving force of decarbonization so far, due to an increase in renewable power and lower-emissions gas plants that helped pushed coal plants out of the power mix. The nation plans to turn off the last of its coal plants by 2024.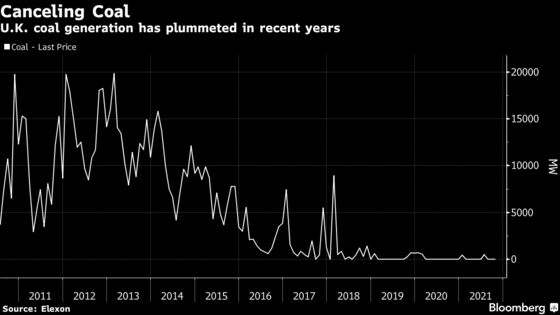 Still, eliminating all emissions from the power sector will be challenging. This year has seen emissions surge, as unusually low wind speeds and outages at nuclear plants left the country more reliant on gas-fired stations and even sometimes on burning coal. 
Exactly when in the 2030s electricity in Britain can achieve net-zero will depend on the government's ambition, support for greenhouse gas removals and other technical developments, the Energy U.K. report said.