U.K. Economy Needs a Reboot No Matter the Brexit Outcome
(Bloomberg Opinion) -- "I'm really enjoying the season finale of the UK," quipped Irish software engineer Damian Sullivan on Twitter. His joke may not be far off the mark. Brexit negotiations are looking more and more like the type of destructive brinkmanship that the U.S. has seen in recent years. But the stakes are much higher in the U.K. — rather than just shutting down parts of the government, a failure to reach a Brexit deal would result in huge economic and legal chaos. That in turn could prompt Scotland to leave the UK, meaning that Brexit would indeed be the union's final episode. 
Meanwhile, Brexit basically assures that Britain will lose a substantial piece of its dominant industry — finance, a good portion of which is scrambling to relocate to cities on the continent such as Frankfurt: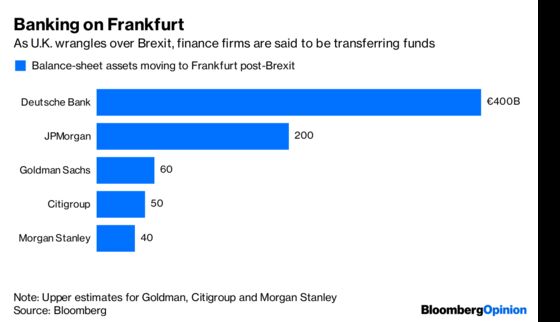 In the long run, this will probably be a good thing for the U.K., as the country had become too dependent on finance. But it's bound to cause economic disruption. The U.K. is very dependent on exports, which represent almost a third of the country's gross domestic product: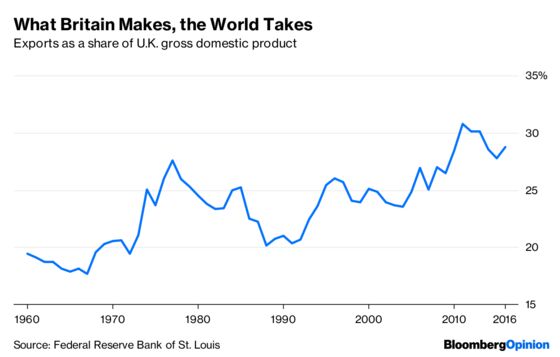 Compare this to Japan, which is famous for its exporting prowess, but which exports less than half of that much of its GDP.
It's clear that once Brexit happens, the U.K. will need to sell the world something besides financial services. The highest-value alternatives are software, clean energy, high-tech manufacturing, biotech and the like. These industries will probably develop naturally to some extent, but the urgency of Brexit means that the British government should think about giving them a push. In other words, the U.K. need to embrace what it has long disdained — industrial policy.
Fortunately, this is actually in the works. The government of Theresa May, for all its faults, has been very active in promoting such a program.. In late 2017, May released a lengthy document that describes a number of bold initiatives for resuscitating Britain's industrial prowess.
The ideas are, for the most part, good ones. In addition to spending on infrastructure and education, one central initiative would be increased research spending. The U.K. now spends much less of its economic output on research than its peers: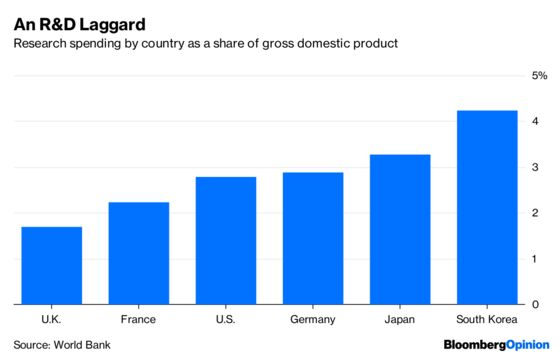 May's plan would increase this to 2.4 percent of GDP by 2027, which would still leave Britain on the low end, but not so egregiously behind. In addition to tax credits, loans for innovative business activities and infrastructure improvements, the government plans to directly subsidize research with an "Industrial Strategy Challenge Fund" of £725 million, or almost $1 billion. That fund would invest in a number of technology areas the government deems promising or important, such as next-generation batteries, precision medicine and many others.
Importantly, the government plans to work with universities to do much of this innovation. University-private partnerships have proven highly effective in the U.S., establishing a pipeline from government funding to academic labs to corporate commercialization and startups. Universities also tend to give lagging regional economies a boost, by concentrating human capital in an area and drawing in private investment. Years of finance-centric development has left the U.K. with a geographically unbalanced economy, with London thriving while other regions flag; research at universities outside of the capital city will help reverse this trend.
This approach is the culmination of many years of effort by thought leaders in the U.K. to persuade the government to embrace a research-oriented industrial policy. Prominent among those thought leaders was Mariana Mazzucato, an Italian-born American economist now working as a professor at University College London. In her landmark book "The Entrepreneurial State: Debunking Public vs. Private Sector Myths," Mazzucato highlighted the key role that government-supported research played in the creation of key technologies such as the internet, which later created enormous private wealth. Mazzucato's tireless efforts to promote an industrial strategy centered around government support for research and commercialization have obviously found a friendly ear in the May government, as well as in the opposition Labour Party.
But May's strategy, although a big step in the right direction, has one area where it could stand to improve — immigration. The U.K. is a small country, with just 66 million people. Even with substantially upgraded education, there's no way Britain can train enough scientists, engineers, technicians and other high-skilled workers to meet the needs of an international technology hub. It will have to let in more of the world's best and brightest. The country now has a cap of 20,700 on high-skilled visas — a tiny and totally insufficient number.
The problem will only be worsened by Brexit, as migrants from the EU are no longer given easy entry. Tellingly, Mazzucato herself, who has lived in the U.K. for 20 years, was recently denied permanent residency. This ironic twist is just one indicator of the dysfunctional in an immigration system tainted by a wave of xenophobic sentiment after the 2016 Brexit referendum.
The May government has promised to increase skilled immigration, including abolishing the skilled worker cap. But its proposals are filled with restrictive measures, and focus overwhelmingly on temporary work visas, indicating the isolationist mood in the country. Instead of trying to attract talented guest workers, the U.K. should implement a program for skilled people to immigrate permanently. That sort of system has been used to great effect by Britain's former colony, Canada. The U.K. is a small island, but with fertility rates below the level needed for long-term population replacement, there will be room to let in more people.
The U.K. is moving in the right direction with its new industrial strategy. But to really become a research and technology powerhouse, it will need more talent, much of it from other nations.
This column does not necessarily reflect the opinion of the editorial board or Bloomberg LP and its owners.
Noah Smith is a Bloomberg Opinion columnist. He was an assistant professor of finance at Stony Brook University, and he blogs at Noahpinion.