U.K. Economy Accelerates on Stronger Services and Construction
The U.K. economy grew less than the Bank of England forecast, and consumer spending showed signs of weakening, leaving the chances of an interest-rate increase in December in the balance.
Gross domestic product rose 1.3% in the third quarter, short of the 1.5% predicted by the central bank this month, Office for National Statistics data published Thursday show. A stronger-than-expected 0.6% gain in September alone was marred by evidence that consumers are cutting back as accelerating inflation eroded living standards.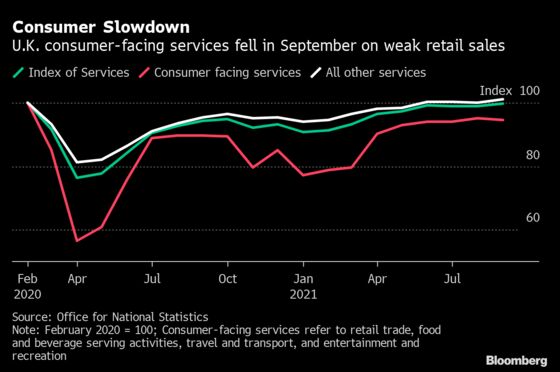 A December rate increase had been largely priced in by markets after officials warned last week that higher borrowing costs will be needed in coming months to bring inflation back to their 2% target. Labor market data will be crucial to their decision, with policy makers looking to see how some 1 million furloughed workers fared when the government stopped subsidizing their wages on Oct. 1.
"The recovery has entered a much tougher phase," said Martin Beck, economist at the EY Item Club, which uses the Treasury's forecasting model. "The situation has been made harder by the escalation of supply chain disruption and the increases in inflation, which will eat into household spending power."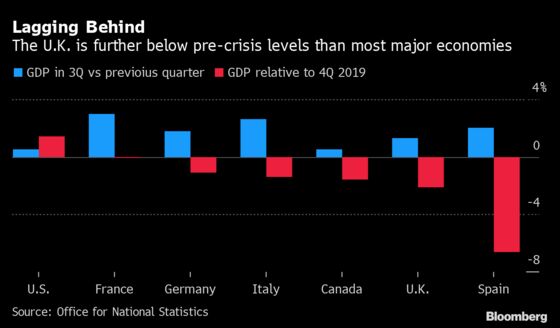 The growth shortfall in the third quarter was due to the ONS revising lower data for July and August. The BOE had been expecting an expansion of 1.5%. Output was 2.1% below its level before the pandemic struck, lagging behind other Group of Seven economies.
"Beyond the strong headline figure, the composition of growth was more concerning," said Thomas Pugh, economist at RSM U.K., a tax and consulting firm. "The economy is likely to slow in the fourth quarter as supply shortages, surging prices and the removal of fiscal support weighs on consumption."
The pound was 0.1% weaker at $1.3387 as of 9:31 a.m. in London.
Service industries grew 0.7% due to an increase in output from the health sector as many doctors resumed face-to-face appointments. However, consumer-facing services fell 0.6% on weaker retail sales. That may fan BOE concerns that demand is waning as households brace for a sharp increase in energy bills and taxes in the spring.
What Bloomberg Economics Says ...

"Consumer spending appears to be losing steam, which is likely to worry those who held off voting for a rate rise in November. We still expect a few dazzling labor market releases to tip the balance toward a hike this year, but a move looks far from certain."

--Dan Hanson, Bloomberg Economics. Click for the full REACT. 
Two sets of official labor market are due to be published before the Monetary Policy Committee meets in December, with the first of them coming next week. The early indications are that the majority of those who were furloughed returned to work in October. If so, it suggest the labor market remains tight, which the BOE fears could lead to a wage-price spiral if left unchecked.
Manufacturing fell in the month on a drop in vehicle production, which declined the most since May because of widespread shortages in the supply chain. The fall was offset by an increase in construction output.
Separate ONS figures showed the trade deficit excluding precious metals widened to almost 40 billion pounds ($54 billion) in the third quarter. Exports fell more sharply than expected, and imports rose.
"U.K. exporters face a difficult winter ahead as supply disruption shows little sign of easing, with profits squeezed as a result," said Ana Boata, head of economic research at trade credit insurer Euler Hermes.