U.K. Eases Tests for Vaccinated Arrivals in Boost to Travel
(Bloomberg) -- The U.K. government eased coronavirus testing requirements for fully vaccinated people arriving in England, removing a significant barrier to travel and boosting airlines and tourism firms.
Those with two doses flying from nations that aren't high risk will be exempt from a pre-departure test, while screening after arrival will be downgraded to quicker and cheaper lateral-flow tests, according to a statement Friday.
A so-called traffic-light system used to categorize countries will be replaced, with a single "red list" for places where infection rates are high and simplified measures for the rest of the world, Transport Secretary Grant Shapps said.
Prime Minister Boris Johnson has faced months of pressure to water down border curbs blamed for a muted recovery in travel demand. Industry bosses have said that PCR tests required for arrivals even from less-risky locations have acted as a brake on bookings because of the complexity of arranging them and costs that could double the price of a family holiday.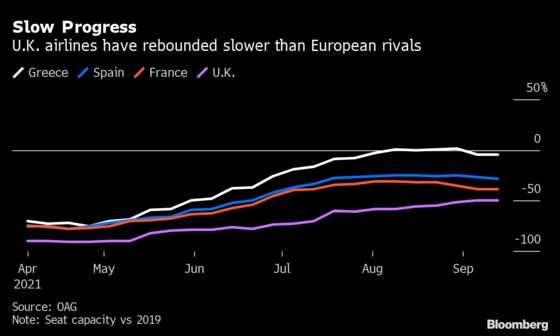 The removal of pre-departure tests and the traffic-light simplification will be introduced on Oct. 4, with lateral-flow tests from later in the month, the Department for Transport said.
Airline stocks had gained in anticipation of the U.K. easing curbs, with Ryanair Holdings Plc and British Airways owner IAG SA both advancing 9% in the past two days and EasyJet Plc up 11%. The DfT announcement came after markets had closed.
International Air Transport Association Director General Willie Walsh called the measures "a move in the right direction" but said PCR testing should be ended immediately. "If it's the right thing to do, let's get on with it."
EasyJet Chief Executive Officer Johan Lundgren said that while the changes will make flying easier, there's no need for any screening of vaccinated travelers from low-risk countries. Visiting Britain will remain "less affordable for all" after the European Union scrapped such testing in July, he said.
People without two vaccine shots who return from a non-red list country will still be required to take a pre-departure test, plus PCR tests on day two and day eight after arrival, and to self-isolate for 10 days, as the government pushes its inoculation program.
The U.K. reopened to non-essential travel in May. Fully vaccinated Britons arriving from most countries were allowed to skip self-isolation from July, a privilege later extended to citizens from the U.S. and European Union.
At the same time, testing remained mandatory for all nations, while a cycle of three-weekly updates meant people faced unexpected costs if places they were due to visit went from green to amber, or hotel quarantine at a cost of 2,285 pounds ($3,153) if they turned red.
Alongside the easing of rules, the number of red-list countries will cut by eight from Wednesday, the DfT said. The tourist destinations of Turkey and the Maldives are among places opening up, alongside Egypt, Oman, Bangladesh, Pakistan, Kenya and Sri Lanka. 
The government also extended isolation-free entry to people vaccinated in more then 17 countries and territories including Australia, Canada, Israel, Japan, New Zealand, Saudi Arabia, Singapore and South Korea.
Virgin Atlantic Airways Ltd. CEO Shai Weiss said the government should also recognize the vaccination status of people who had the jab in India and Hong Kong, and that the red list should focus purely on "variants of concern" and therefore omit countries such as South Africa.