U.K. Consumer Spending Recovers Slightly as Brexit Dims Outlook
(Bloomberg) -- Consumer spending recovered slightly in January after a dismal holiday season, though British households are still wary because of Brexit.
KPMG said that retail sales grew 2.2 percent last month, up from the slowest growth in a decade in December. Figures from Barclaycard also showed consumer spending grew 2.9 percent after a previous decline. It had dipped in December as shoppers brought forward gift purchases to November to take advantage of heavy discounts.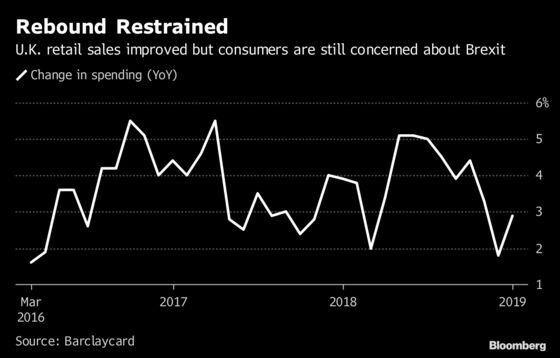 Price cuts were a driving force behind the uptick in January, KPMG said, but overhanging the outlook is Britain's divorce from the European Union. With the U.K.'s departure from the bloc scheduled for the end of March and no clarity on what form it will take, uncertainty is weighing on consumer confidence.
"There is no guarantee this momentum will continue after the sales have finished," said Helen Dickinson, chief executive of the British Retail Consortium. "Unless the Government want to see well-known brands disappearing from our high streets in 2019, they should work with their colleagues in Parliament to find a solution that avoids the shock of a no deal Brexit."
Over half of consumers are worried that a rise in prices for everyday items will impact their spending power, the Barclaycard report said. Inflation accelerated after the 2016 referendum on EU membership and could intensify again depending on what form of Brexit takes place.
Households spent the most on essential items and supermarkets saw their highest sales growth since April 2017, Barclaycard said.