U.K. Business Chiefs Cite Substantial Brexit Woes in Gove Call
(Bloomberg) -- The U.K.'s five main business lobby groups said British companies face "substantial" post-Brexit difficulties in trading with the European Union after holding a call with Cabinet Minister Michael Gove.
The so-called B5 -- the British Chambers of Commerce, Confederation of British Industry, Federation of Small Businesses, Institute of Directors and Make UK -- described the call among members of the government's Brexit Business Taskforce as "productive" in a joint statement issued late Thursday.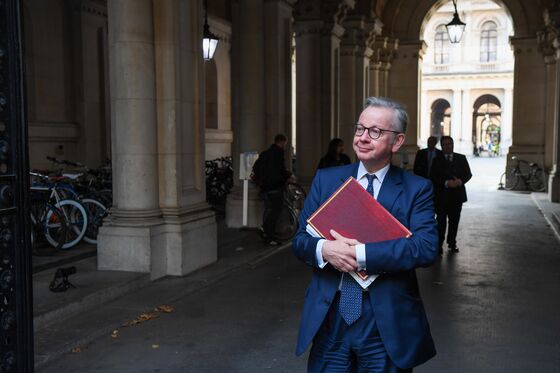 "A range of problems were discussed, including the substantial difficulties faced by firms adapting to the new customs processes, sizable obstacles to moving goods through the Dover-Calais route and the shortage of informed advice from both government and specialist advisers," the groups said.
Companies have complained of increased red tape and costs as the U.K. adapts to its new trading relationship with the EU after completing Brexit on Dec. 31. More than half of businesses moving goods from the European Union to the U.K. have experienced delays since Jan. 1. The business groups warned that with activity still low, "further problems might appear as volumes begin to increase once stockpiled supplies were exhausted."
They also raised concerns about further disruption to trade in the coming months with the expiry of grace periods designed to allow them to adapt to new rules.
Gove's office earlier issued a statement pledging the government's commitment to helping companies adjust to the new trading rules. Compliance with the new rules has been high, with less than 5% of traffic failing to meet customs requirements or lacking the negative coronavirus test required to cross over to France, according to the statement.
"Some businesses are facing challenges with specific aspects of our new trading relationship with the EU, and I want to let them know that we will pull out all the stops to help them adjust," Gove said. "To this end, we have set up export helplines, invested millions in the customs intermediaries market, and continue to direct them to the Brexit Checker Tool" website.
The business groups said they'd discussed with Gove a range of potential solutions to the difficulties they face, including vouchers to help small firms access the advice they need and a stepped-up effort to train more customs agents.