Fear of Hard Brexit and Corbyn 'Armageddon' Sinks U.K. Banks
(Bloomberg) -- British bank shares tumbled on the sudden emergence of a nightmare Brexit scenario.
Royal Bank of Scotland Group Plc and Lloyds Banking Group Plc, Britain's biggest mortgage lender, fell the most in two years. Barclays Plc, one of Europe's biggest investment banks, slid to its lowest since September 2016.
Prime Minister Theresa May's government and her day-old Brexit deal were on the verge of unraveling after several of her ministers resigned on Thursday morning. While a no-deal Brexit risks complicating the way banks do business in the European Union, the ouster of May would potentially bring the Labour Party's Jeremy Corbyn, a left-wing firebrand, closer to power.
"The absolutely scary thing happening today is that a deal that could get done might not get done, and he could get in," said Alasdair Haynes, the chairman of Aquis Exchange, a London-based equities trading firm. "If we have a hard Brexit and Corbyn, that's Armageddon."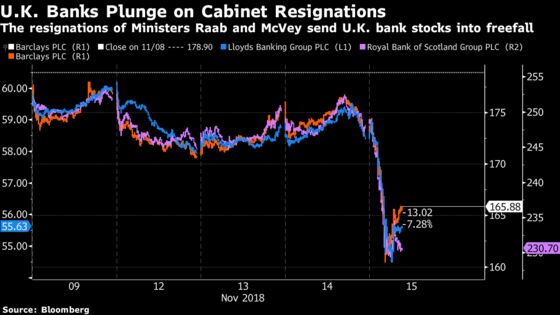 It's more likely that Conservatives will revolt against their leader after Brexit Secretary Dominic Raab and Work and Pensions Secretary Esther McVey resigned Thursday in quick succession, followed by several junior government figures. The departures sent the pound slumping and gilts higher on the prospect that Britain could crash out of the EU with no deal -- an unpredictable and high-risk scenario for European markets.
"It looks like there's a greater chance that Theresa May will be challenged," Edward Firth, a U.K. bank analyst at Keefe, Bruyette & Woods in London, wrote in an email.
Barclays, the British bank most exposed to the disruption to financial services caused by Brexit, sank as much as 7.6 percent, the most since October of last year and touching the lowest since September 2016.
Ever since the referendum in June 2016, international banks that have used London as a gateway to Europe have been scrambling to prepare for the worst. European regulators have made it clear they expect firms to establish full-service operations with boards of directors, risk-management teams, and compliance capabilities within the EU's borders. Barclays established a subsidiary in Dublin to access the EU.
However, the reason the banks are getting punished today has less to do with this shift -- Lloyds, in particular, has little business in Europe -- than it does with the potential damage to their revenue in the U.K.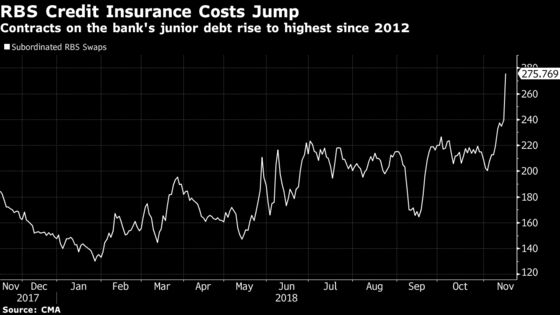 For Lloyds and RBS, down 7 percent and 5 percent respectively, leaving the EU in March without a trade deal or a two-year transition period poses risks to the consumer. Further damage to an already weakening economy, weighed down with ballooning household debt and lackluster foreign investment, raises the prospect of increased delinquencies and declining loan growth.
Swaps insuring the debt of U.K. banks and insurance companies jumped to the highest levels in years, indicating deterioration in perceptions of credit quality. Subordinated contracts on RBS rose to the highest since May 2012, while senior swaps on Barclays increased to the highest since December 2016, according to data from CMA.
As for Corbyn, who unexpectedly held May to a minority government in the 2017 election, he said on Twitter last year that big banks would be right to see him as a "threat."
"There's a greater prospect of a hard Brexit and/or a Labour government that's negative for the economy and the banks," Frith said.