U.K. Airlines Say Brexit Uncertainty Starting to Hurt Demand
(Bloomberg) -- After two years of insisting that Brexit has had no impact on flight bookings, U.K. airlines are starting to see the first evidence to suggest sales are taking a hit.
Virgin Atlantic Airways Ltd. and discount operator Jet2 have said demand is being depressed by the weaker pound, a trend that could deepen as U.K. political opposition threatens to derail the exit settlement that Prime Minister Theresa May has negotiated with the European Union.
Ryanair Holdings Plc also says it expects airlines to suffer as the lingering prospect of a no-deal Brexit roils sterling, though the Irish discount giant reckons that customers who have seen their spending power shrink may head in its direction.
Airlines are starting to speak out about the impact of a weaker pound even as the likelihood of disruption to flights recedes, with both the U.K. and EU saying in recent weeks that mechanisms are in place to ensure that planes carry on operating in a no-deal scenario.
Britons traditionally book summer vacations in the depths of winter, so the pound's weakness could make sales for the Easter break an early casualty. That holiday starts April 19, three weeks after the U.K. is due to quit the EU.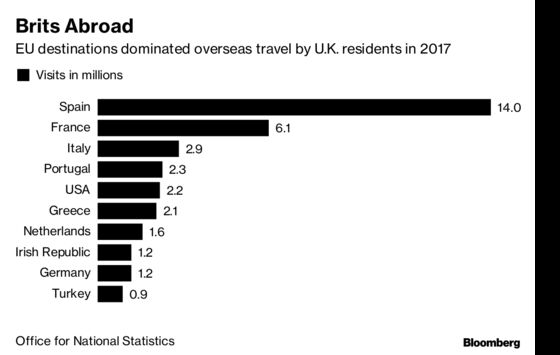 Virgin Atlantic Chief Executive Officer Craig Kreeger wrote to the House of Commons transport committee on Wednesday saying the slide in sterling since the 2016 Brexit referendum "has already had a demonstrable impact on U.K. leisure demand as the cost of holidaying has increased."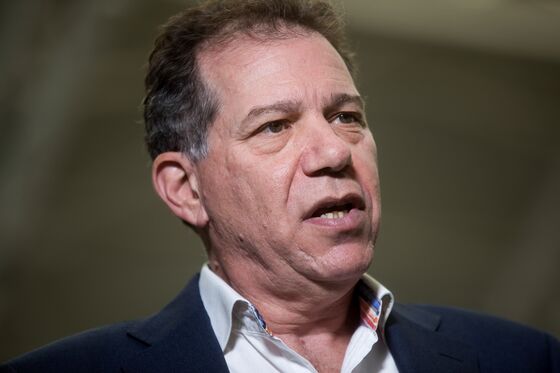 Kreeger warned that a further hit to the currency from a no-deal scenario split would put "further pressure on airlines" that pay fuel and and aircraft-leasing bills in dollars, while also inflicting significant damage on customers and the U.K. economy.
Jet2 parent Dart Group Plc is concerned an uncertain economic outlook related to Brexit will impact consumer spending in the medium term, it said in an earnings statement Nov. 15. The discount carrier draws most of its customers from less affluent areas around Manchester, Glasgow and its Leeds-Bradford airport headquarters, making it particularly sensitive to a spending pinch.
Dart fell 16 percent the day of the statement, as a spate of ministerial resignations in response to May's draft Brexit plan sent the pound tumbling.
Ryanair Chief Marketing Officer Kenny Jacobs said in a briefing in London on Nov. 21 that all airlines should be concerned about the pound, while suggesting that it's slide could push customers in its direction "because people will say they just need to book the cheapest flight." While based in Dublin, the carrier counts Britain as its biggest market.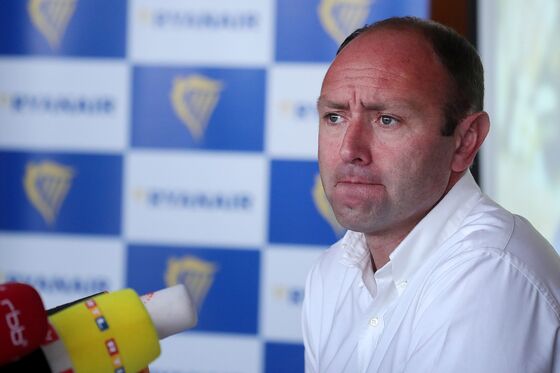 Amid the gloom, EasyJet Plc says bookings for its second half commencing April 1 are actually ahead of last year. CEO Johan Lundgren told Bloomberg Television last week he's not concerned about the pound right now, with the Luton, England-based company partly insulated by currency hedges.
British Airways owner IAG SA said at a capital markets day on Nov. 2 that uncertainty around Brexit has so far not affected the underlying trading environment.
Tour operators TUI AG and Thomas Cook Group Plc also say U.K. bookings for next summer are higher. That suggests "demand is not diminishing despite the backdrop of Brexit," TUI said in an email.
Thomas Cook's assessment of post-Brexit demand was almost the only bright spot in a lackluster earnings update Tuesday as the London-based company reported that the summer heatwave in northern Europe had led millions to vacation at home, illustrating how fragile travel markets can be.
TUI and Cook may be benefiting as people seek to freeze the cost of a holiday by booking a package tour in anticipation of tougher times. Berenberg analyst Stuart Gordon said they could still suffer if the currency slump prompts Britons to make shorter foreign visits, stay at poorer quality hotels and spend less.
A sustained reduction in spending power could also lead some to eschew overseas breaks and opt for a "staycation," a trend that ate into demand for airlines and holiday companies following the 2008 financial crisis, when Brits took 10 million fewer foreign breaks. Pre-crash levels were only reached again in 2016, according to the Office for National Statistics.