Tyson Foods Blames Trade War as It Cuts 2018 Profit Forecast
(Bloomberg) -- Tyson Foods Inc.., the largest U.S.-based meat producer, said profit this year will be less than it previously forecast because of the country's escalating trade dispute with major importers of agricultural products.
Both China and Mexico have imposed import tariffs on American pork recently in retaliation against U.S. duties on metal shipments. The measures have sent hog prices plunging, eroding the profitability at Tyson's pork business. The Springdale, Arkansas-based company said Monday it's also grappling with higher commodity-market volatility and "sluggish" domestic demand for chicken.
"The combination of changing global trade policies here and abroad, and the uncertainty of any resolution, have created a challenging market environment of increased volatility, lower prices and oversupply of protein," Chief Executive Officer Tom Hayes said in a statement.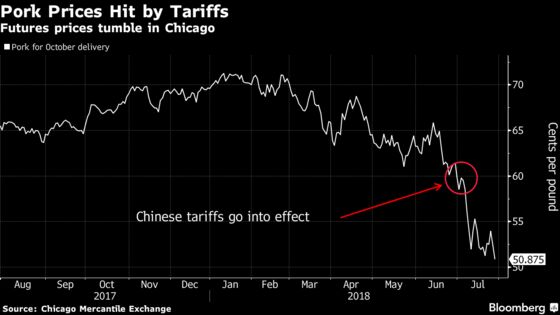 The American farm sector is one of the few areas of the economy that typically operates with a trade surplus, and agriculture groups have sounded off against the trade war's potential toll on exports. Net farm income is poised to reach a 12-year low in 2018, and challenges for meat demand may offset some of the benefits of cheaper feed-grain prices. The Trump administration last week announced a plan to provide $12 billion in assistance to U.S. farmers.
Tyson said its earnings in fiscal 2018 excluding one-time items will be about $5.70 to $6 a share, compared with a previous view of $6.55 to $6.70.
The shares slumped as much as 8.2 percent, the biggest intraday drop since November 2016. They were down 5.5 percent at $60.04 at 10:49 a.m. in New York. Rival poultry producers Pilgrim's Pride Corp. and Sanderson Farms Inc., and Hormel Foods Corp., which processes pork, declined.
Tim Ramey of Pivotal Research Group, the lone analyst tracked by Bloomberg holding a sell rating on Tyson, lowered his price target for the shares to $40 from $55.
"We won't really know for several quarters the full magnitude of the impacts of the Chinese tariffs, if any, but the direction of the impact is clear -- higher risk to the sanguine earnings outlook," Ramey said in a report.
The trade challenges come amid a surge in U.S. meat production, making exports increasingly vital to offload surpluses. American output of red meat and poultry is expected to reach an all-time high and swell further in 2019. Wholesale chicken breast prices are the cheapest for this time of year since at least 2010 and pork is at a seasonal nine-year low, government data show.
"Through pricing and aggressive cost management, we're working to stabilize the impact of freight and feed ingredient costs," Hayes said. "However, we still face pressure on chicken sales volume and pricing due to the abundance of relatively low-priced beef and pork on the market. We are working to mitigate these pressures, but our fourth quarter is off to a slower than expected start."
Tyson plans to report its fiscal third-quarter earnings on Aug. 6.