How a Tycoon's Bid to Fix an Ancient Italian Bank Backfired
(Bloomberg) -- An industrialist had grand visions when he helped rescue a storied bank in the port city of Genoa. Fast-forward three years, and the European Central Bank is uneasy about the shareholder, turnover in the executive suite and the lender's ability to survive on its own.
Banca Carige SpA, founded 535 years ago, faces the prospect of losing its independence after the ECB told it to consider a merger, dismissing its own plan to bolster capital. This month, ECB wrote to Vittorio Malacalza, who had just quit Carige's board, urging him to bring calm, consistency and continuity to the lender, according to a person with knowledge of the letter who asked not to be identified.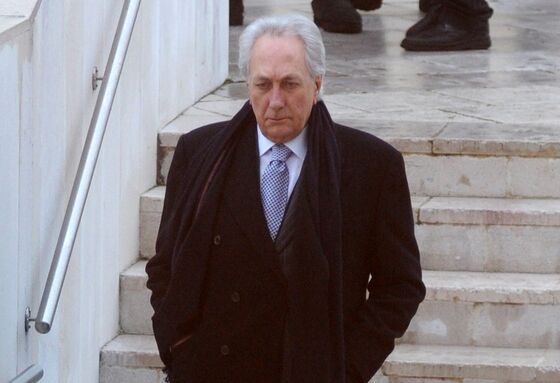 Carige -- whose recent board deliberations have drawn the attention of local prosecutors -- and its executives are running out of options after tapping investors for 500 million euros ($586 million) late last year. As the ECB has pushed banks to fix their capital shortfalls, Carige is its biggest remaining problem child. With a potential buyer yet to appear, Carige's troubles are a reminder of the challenges regulators face when banks are influenced by a large investor.
Malacalza, who holds a 20 percent stake, "believed he could manage a bank like a private corporate firm, with an old-style governance vision," said Carlo Alberto Carnevale Maffe, a professor of business strategy at Milan's Bocconi University. "I knew him years ago, and I'm convinced he really believes in his actions, without realizing that they are self-defeating."
Read more: Carige Given Lifeline as Key Investors Back Share Sale
The investor has acknowledged he corresponded with the ECB, but said all interaction was part of the ordinary course of business. A spokesman for Malacalza declined to comment for this story beyond his previous statements.
According to the local press, during last year's fundraising, the 80-year-old investor slammed advisers that he alleged were charging excessive fees, and has also said the bank was selling assets too cheaply. Malacalza, who wants the board dismissed, has backed and then criticized three chief executives for the bank in three years. The latest management team, led by former UniCredit SpA executive Paolo Fiorentino, disagreed on strategy with former chairman and Malacalza ally Giuseppe Tesauro, prompting the latter's departure. The ECB has urged the bank to swiftly find a new chairman.
Malacalza's family made its fortune in roads, steel and a well-timed investment in Pirelli & C. SpA, and has invested about 380 million euros in Carige. Newcomers to finance, they bought an initial 10.5 percent stake in 2015, a move cheered by regulators and markets as a source of stability and direction, given few other options at the time. The ECB later approved a move to increase the holding to as much as 28 percent.
In an interview with local media in 2015, Malacalza called his investment a good thing for the city he calls home, "and also for us, since we are not a charity." Given the stock's 60 percent drop in the past 12 months, he has potentially lost almost 300 million euros.
"The ECB didn't have alternatives when it allowed Malacalza to become the largest shareholder," said Wolfram Mrowetz, chief executive officer of Italian broker Alisei SIM. "In hindsight, the central bank has probably regretted the decision to empower a non-banking figure, and for sure it will be a lesson for the future."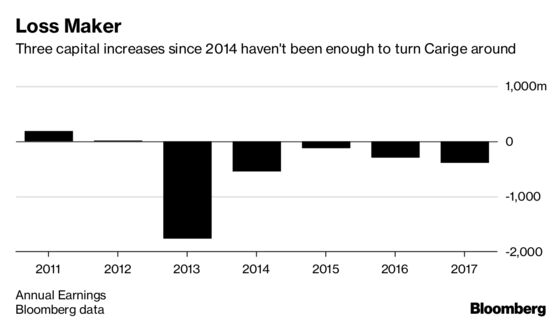 The ECB, keen to clean up the overhang of bad bank loans that has hobbled Italy's economy, wants a new capital plan from Carige by the end of November and strength requirements to be met by the end of the year. In the first quarter of 2018, Carige's total capital ratio stood at 12.23 percent, almost a percentage point below the minimum the ECB sought.
Carige, whose market value has shrunk to less than 500 million euros from a peak of more than 4 billion euros in 2006, has about a million customers. It originally failed a pan-European health check in 2014 -- along with the now-rescued and much larger Banca Monte dei Paschi di Siena SpA. In March, Carige failed to raise as much as 400 million euros of financing through the issue of Tier 2 bonds, partly blaming market conditions resulting from Italian political turmoil.
There are parallels to Paschi: a web of connections with the local establishment, bad loans, poor governance, and cash injections that weren't enough to stop the bleeding. The roots of Cassa di Risparmio di Genova e Imperia, to give the bank its full name, date to its founding by a Franciscan order in 1483, just 11 years after Paschi's predecessor was established in Siena. Both banks were originally modeled on pawnshops that monks set up to help the poor.
Carige has posted an annual loss for five straight years. The bank's direct funding from retail and corporate customers fell 11 percent over the course of 2017, though it said that had stabilized in the first quarter of this year.
The ECB could yet impose more intrusive, so-called early intervention measures on the bank under EU law. However, its officials have often said the measures are ill-defined in the law and difficult to apply without worsening a bank's crisis.
The most likely next step for the bank is reducing costs at its 482-branch network and selling more assets; its balance sheet has already shrunk by half in five years, to about 24 billion euros. Then, there's the prospect of a merger.
"It would be very hard for Carige to ask investors for a new capital raising after having tapped them just seven months ago with a request defined as the definitive solution to the bank's problems," said Robert Baron, a partner at Edinburgh-based advisory and investment firm DeltaHedge. "They can try to find a partner, but I don't see a cross-border merger. Maybe it can lure another Italian bank interested in expanding in Liguria."
The Italian press is speculating that the next two largest shareholders may be uniting to sideline Malacalza. The former is Gabriele Volpi, a Genoa-born tycoon who made his fortune in Nigeria's oil industry and is a dual citizen of the African nation. His Lonestar holding company -- no relation to Lone Star Funds, the U.S. buyout firm that has been swooping on southern European banking assets -- holds almost 10 percent of Carige. Attempts to reach Volpi by email and telephone were unsuccessful.
The other major shareholder, with 5 percent, is Raffaele Mincione, a businessman who told Bloomberg News he backs the current management and also endorses merging Carige with a rival. He has requested that the board be dismissed, citing "worsening governance." His attempt to get a board seat was rejected in March, the month after he bought his stake.
"After the last letter from the ECB, we are certainly open to discussion with all the interested parties," Mincione said in a statement. He said he was open to talking to any other shareholders, without referencing Volpi specifically.
Besides Carige's relationship with the central bank, there's the Genoa prosecutor's office. They want documents from board and shareholder meetings and correspondence with the ECB, Carige said on July 24, after daily La Stampa reported that the financial police visited the bank's headquarters amid a probe into possible "market abuse." The prosecutor's office didn't return phone calls seeking comment.
Any more management uncertainty could all but doom the lender's goal of boosting capital.
"The fleeing of the chairman and board members in quick succession show the struggles that the lender will have," said Tom Kinmonth, a strategist at ABN Amro Bank NV. "It is not a good sign to convince investors. Time is against the bank."