Two-Wheeled Mopeds Are Going Electric and Gaining Speed
On a weekday morning last month, I made the mistake of driving from my home in northern New Jersey, across the bottom of Manhattan and into Brooklyn. The trip, crossing two rivers and the biggest metropolis in the U.S., is never without some stop-and-go, so I knew to leave extra time, but this day was especially gummed-up — a cascade of accidents, lane closures, and disabled vehicles that left me inching my way along the twenty-miles. To make matters worse, I knew that this was my own fault, that, as the urbanist aphorism goes, I was not in traffic, I was traffic. 
When I finally arrived at my destination, two hours later, I was more than primed for what awaited me. I was at Newlab, a startup incubator in the Brooklyn Navy Yard, to meet with Nicolaus Nagel, co-founder of a company called Pave Motors, a maker of an electric two-wheeler. Nagel, 28, and his younger brother Caspar, 26, who grew up in Berlin, Germany, founded Pave in 2019 with an aspiration to build a vehicle that would combine the convenience of the mopeds they rode as teenagers with the quiet, zero-emissions ride of an e-bike and the thrill of a full-size motorcycle.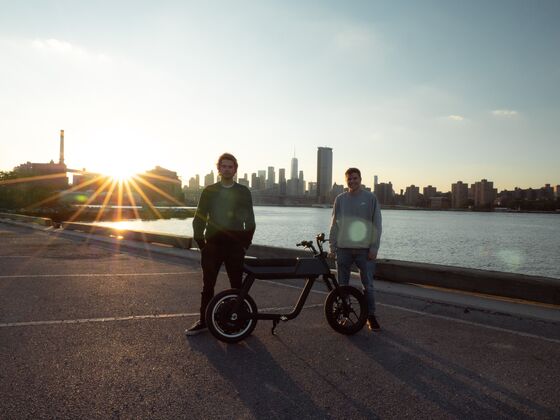 "The vehicles that existed didn't really excite us," says the older Nagel, who goes by Nico, in the company's small second-floor office, "So we wanted to develop something new."
Parked next to us are the only two Pave bikes on the planet. Unlike most gas-powered mopeds, including the classic Vespa, the Pave is a stepover. The battery, a 1.9 kilowatt-hour lithium-ion module, sits beneath the seat and the motor is in the rear-wheel hub. The look is sleek and minimal, like a stripped-down version of the Triumph motorcycle that Steve McQueen rode in The Great Escape. Pre-orders for Pave bikes began in August. The 2,000-watt motor model costs $3,900; a 3,000-watt version is $4,400. Both have a range of about 50 miles. 
The Nagels and their four employees build the bikes themselves in the machine shop at Newlab. The target customers, says Nico, are people like himself, "young professionals living in large cities." And just in case a small-batch, Brooklyn-made e-moped is not quite hip enough, the Pave bike runs on the blockchain. Each comes with a non-fungible token, or NFT, kept on a private Ethereum network run by Pave. Every bike is a node on the network, with hardware on board that allows riders to verify ownership and unlock them using a smartphone. The Pave app also allows owners to create simple contracts, executed on the blockchain, to rent or lend the bikes to others. 
While the blockchain stuff sounded nice, especially the part about owning my trip data, I had really come for the chance to ride a Pave. So after a few minutes of talk, Nico rolled one to the elevator and out to a back parking lot at Newlab. I hadn't been on a moped in years and was a little nervous, but the Pave felt intuitive, like riding bike, except this one could go up to 30 miles per hour (faster, actually, but Pave sets the software to cap it there) with just the twist of a throttle. The bike qualifies as a class B moped in New York, meaning anybody with a driver's license can ride one. 
Pave has an uncertain road ahead as a company. There are big impediments to adoption — from road safety, to theft, to parking infrastructure — over which it has little control. And virtually any large bike, motorbike, or auto manufacturer could decide tomorrow to build something nearly identical at much larger scale and, most likely, lower cost. (Just yesterday, Dutch e-bike maker VanMoof announced plans to make a high-speed bike that will go 31 mph and cost $3,600.) 
Yet as I cruised in circles in the parking lot, one thing was certain: I wished I could ditch my car and ride home on the Pave. It would have been better, for me and for everybody else on the road.
Ira Boudway is a reporter for Bloomberg Hyperdrive.