Top Quants Compete in Devilishly Tough Math Competition
(Bloomberg) -- John Overdeck was one of dozens of competitors hunched over an iPad Tuesday night at the National Museum of Mathematics's annual Masters Tournament.
Despite having won a silver medal at the International Mathematics Olympiad as a high school student, the co-founder of quant fund Two Sigma Investments said he was nervous after turning in his answers. Still, the pressure was nothing compared with his day job.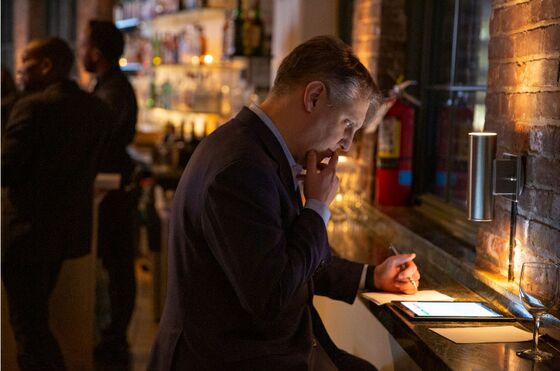 "Running a $60 billion hedge fund is pretty scary," he said as a waiter offered him a miniature grilled cheese dunked in a shot of tomato soup (he declined). "Whenever you're put in charge of other peoples' savings, it's tremendously scary."
Each year the museum hosts the tournament as a fundraiser. This year's at Tribeca Rooftop raised almost $1 million. Overdeck, 49, the chairman of the museum, placed third, ahead of Madalina Persu, a 28-year-old quantitative researcher at Two Sigma who recently graduated with a doctorate in computer science from Massachusetts Institute of Technology. She played it cool about competing against her boss.
"I was focused on the problems," said Persu, the gold medalist at the 2009 International Math Olympiad.
During cocktail hour, competitors took on multiple choice brain teasers, such as, if a 2-inch cube of silver weighs 3 pounds and is worth $200, how much is a 3-inch cube worth? Or is the shape of the St. Louis arch a quartic polynomial, parabola, inverted cotangent, weighted catenary or arc of a circle?
Twenty people made it to the final round, with the first question knocking out all but six of them. Guests looked on over dinner.
"We're turning math into a spectator sport," said Cindy Lawrence, the museum's chief executive officer.
The winner, for the third time, was Geva Patz, an independent researcher and volunteer at the museum. Before Tuesday, Patz and Overdeck had been tied for most wins in the Masters Tournament, with two championships apiece.
"He's got more street cred because he has a medal from the Math Olympiad," Patz said.
Second place went to Sandy Kutin, the deputy director at the Institute for Defense Analysis Center for Communications Research in Princeton, New Jersey.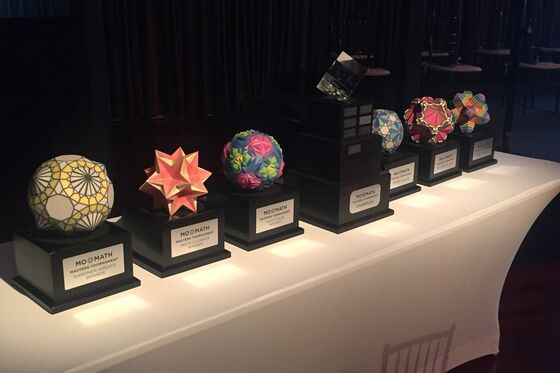 Overdeck said he doesn't know where he'll put this year's trophy -- a multicolored sphere made by a mathematical artist. His other Masters trophies are on his mantel at home alongside a telescope and a Rubik's cube.
His comparative advantage in math is "quick" rather than "deep," he said.
"Jim Simons is a true mathematician," he said of the founder of Renaissance Technologies, another quant hedge fund. "I just enjoy this stuff."