Twice-Routed Stamps.com Lured, Then Burned Some Hedge Funds
(Bloomberg) -- Stamps.com Inc.'s shares took a dizzying plunge in late February after the company said a crucial partnership with the U.S. Postal Service had ended. And that rout may have served to encourage some hedge funds to build positions in the first quarter-- a potentially a fateful decision as a second rout in shares was just around the corner.
While reporting its fiscal fourth-quarter results on Feb. 21, Stamps announced the end of its exclusive shipping partnership with USPS, nearly halved its profit forecast for the year and warned of some "short term pain." The company's shares dived nearly 60% the next day. As it turned out, however, the troubles may last longer and cut deeper. Earlier this month, Stamps again slashed its profit outlook, triggering another 56% drop.
The sharp sell-off in February may have enticed some investors to build positions in the El Segundo, California-based company. Millennium Management, SQN Investors and G2 Investment Partners were listed among the top hedge funds building positions in the first quarter, according to data compiled by Bloomberg. It's unclear yet whether they stuck around for the second fall.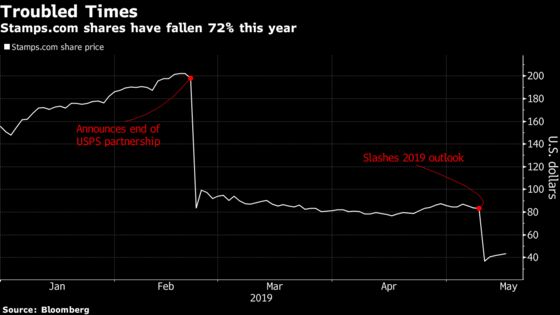 Given the latest results, some funds may be breathing a sigh of relief. P2 Capital and Light Street Capital both exited their stakes completely in the first quarter, while Garelick Capital trimmed its position materially.