Turns Out Millennials Are Right to Carp About London Home Prices
(Bloomberg) -- Even the cheapest London homes are beyond reach for most young adults.
Two thirds of 25 to 34-year-olds can't afford to buy a property in the U.K. capital, even with a 10 percent deposit and a maximum mortgage of 4 1/2 times their salaries, the Institute for Fiscal Studies said in a report Monday. Just two decades back, the proportion unable to get onto the housing ladder was just one in 10.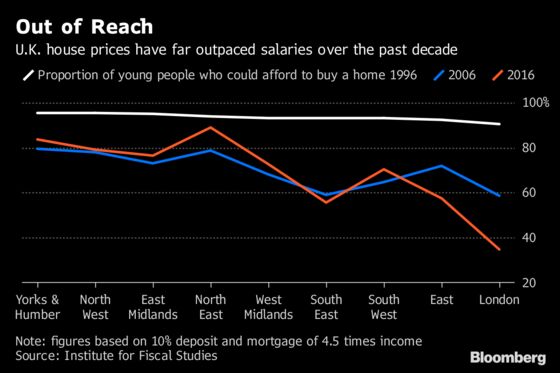 Across the country, only 60 percent have enough funds to buy a home, down from 90 percent. Adjusted for inflation, average house prices in England have increased 173 percent, while young adults have seen their real income rise just 19 percent. The share owning their own home has fallen to 35 percent from 55 percent, with London posting the lowest rate of any region at 25 percent.
"Big increases in house prices compared to incomes over the last two decades mean that it is increasingly difficult for young adults to get on the housing ladder," said Polly Simpson, a research economist at IFS and a co-author of the report. "These trends have increased inequality between older and younger generations, and within the younger generation too."
The key is to increase supply of homes and easing planning restrictions, which would bring down property prices and rents, the IFS said. Its findings come amid speculation that Chancellor of the Exchequer Philip Hammond will use his Oct. 29 budget to announce a tax break for landlords who sell properties to longstanding tenants.
Young people in the U.K. are now less likely to own a home or to set aside money for savings, making it difficult for them to achieve financial stability, according to a separate report by the Office for National Statistics released last week. Prime Minister Theresa May's government plans to build 300,000 new homes every year in an effort to ease the housng crisis.