Australia's Turnbull Digs In as Rival Dutton Seeks Leadership
(Bloomberg) -- Australia's embattled Prime Minister Malcolm Turnbull is digging in for a fight, saying he will only step aside if his chief rival can prove he has enough support to unseat him.
Amid a flurry of ministerial resignations Thursday, Turnbull said he would call a special meeting of the governing Liberal party at noon on Friday only if right-wing populist Peter Dutton can gather enough signatures on a petition. Turnbull said he'd step down if lawmakers decide to hold another leadership vote, with reports saying Treasurer Scott Morrison and Foreign Minister Julie Bishop would challenge Dutton.
Turnbull came out swinging at a press briefing on Thursday afternoon in Canberra, saying he was seeking legal advice on Dutton's eligibility to sit in parliament. He also criticized the attempts to force yet another change of leadership in a nation that's switched prime ministers five times in a little over a decade.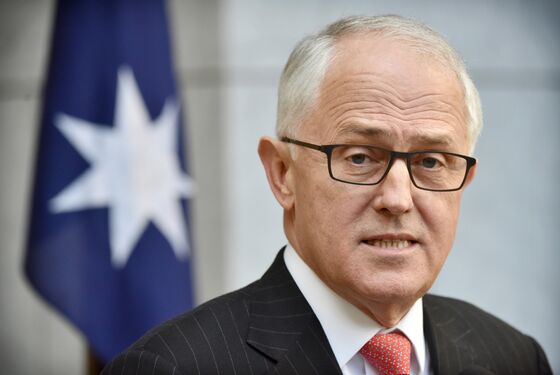 "A minority in the party room, supported by others outside the parliament, have sought to bully, intimidate others into making this change of leadership,'' Turnbull, 63, told reporters. He warned of a "very deliberate effort to pull the Liberal party further to the right."
The crisis has started to hit the nation's financial markets, with the local dollar weakening as much as 0.9 percent against the greenback on Thursday. No Australian prime minister has served a full term since 2007.
Australia's latest political upheaval has been driven by infighting between moderates and conservatives in the ruling Liberal party as its poll numbers fall ahead of an election due by May. The main opposition Labor party led by 10 percentage points in a poll released on Monday.
The potential change of leadership adds more uncertainty for businesses in the world's 13th-largest economy amid repeated policy missteps and flip-flops over the past decade. The political dysfunction has contributed to policy paralysis across areas such as taxation and energy.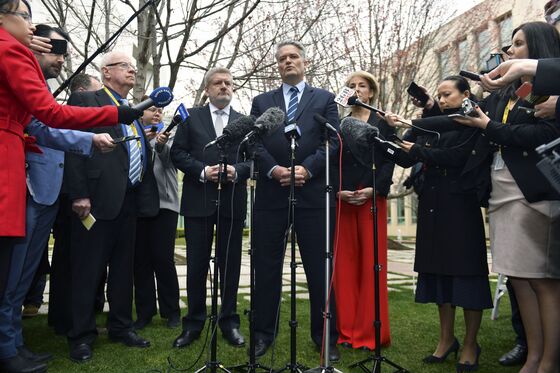 Turnbull declined to comment when asked who he would support if Dutton manages to force a leadership vote. Morrison is preparing to contest the ballot, Sky News reported, while Australian Broadcasting Corporation said Bishop would also run, arguing that her high approval ratings would boost the party's chances in the next election.
"Turnbull is holding to power by his fingernails, but his goose looks cooked," said Zareh Ghazarian, a Melbourne-based political analyst at Monash University. "On his way out the door, he seems to want to frustrate his enemies and perhaps help install a successor more to his liking than Dutton."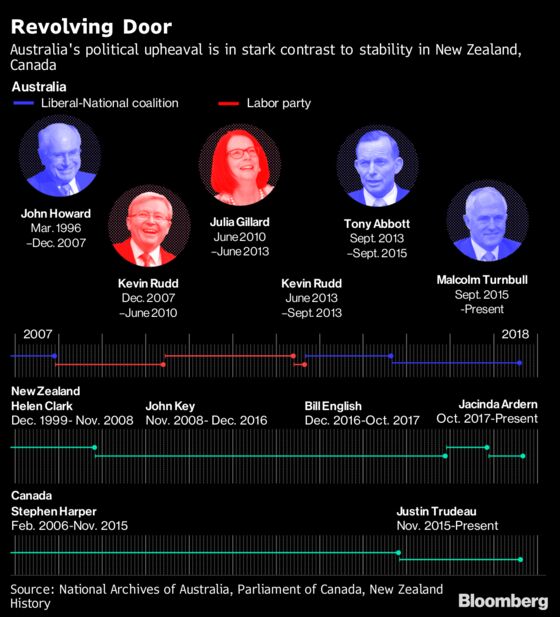 Turnbull himself came to power in 2015 in a party coup before winning an election the next year with a razor-thin majority. Amid internal party dissent, he abandoned signature policies this week designed to restore energy security and give tax relief to big businesses.
Dutton, a 47-year-old former policeman, is seen as a leader of the party's right wing. As the minister in charge of immigration he rose to prominence as a staunch supporter of the government's hard-line policy of detaining asylum seekers in offshore camps.
In interviews this week he outlined a populist policy manifesto that includes removing a tax on electricity bills for families and pensioners, a wide-ranging investigation into energy companies blamed for spiraling prices, and cuts to immigration.
Dutton on Thursday called speculation that he may be ineligible to remain in parliament "spurious and baseless." The Labor Party has said he may have breached constitutional law by being a beneficiary of a trust that owns a childcare company and receives government subsidies.
Turnbull said the solicitor general is due to announce a decision on this on Friday morning. Should the solicitor general decide Dutton's eligibility is in doubt, the case will be referred to the High Court -- a decision that may take months to be reached.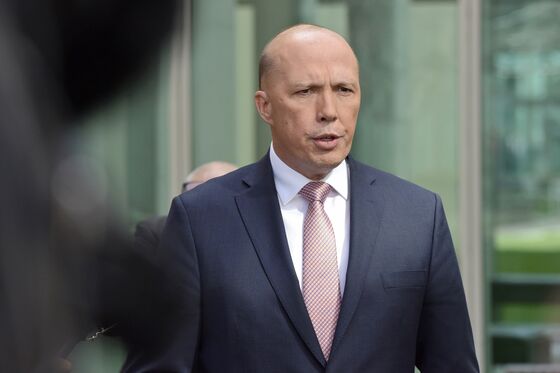 Turnbull's troubles have come even as polls show he's more popular among the general public than any of the potential candidates to replace him. That includes the challengers within his own party, as well as opposition leader Bill Shorten.
His authority over the party has always been in doubt. The self-made millionaire tried to appease conservative forces by retreating from some of his most strongly held convictions such as tough action against climate change. Yet those same people are now trying to tear him down, and voters have become disillusioned with his policy reversals.
The resignations of key ministers "mean it's game over" for Turnbull, said Haydon Manning, an associate professor of politics and public policy at Flinders University. "My money would be on Dutton but you can't rule out another candidate giving it a go."