Turkish Stocks, Lira Sink as Showdown With Russia in Syria Escalates
Turkish stocks and bonds plunged as tensions between Ankara and Moscow soared while the spreading coronavirus sparked a global exodus from riskier assets. Authorities stepped up their interventions to slow the lira's slide and banned short-selling in equities.
The Borsa Istanbul 100 Index slumped 10% at the open, its biggest intraday drop in almost seven years, led by lenders Akbank TAS and Turkiye Garanti Bankasi AS. The yield on two-year government notes surged more than 40 basis points.
State banks continued to prop up the lira by selling about $2 billion on Friday, according to two traders with knowledge of the matter, helping trim losses of as much as 0.8% earlier in the day.
"The market is clearly very nervous," said Piotr Matys, a strategist at Rabobank in London. "It is essential to defuse tension and avoid a direct military confrontation between Turkey and Russia over Syria."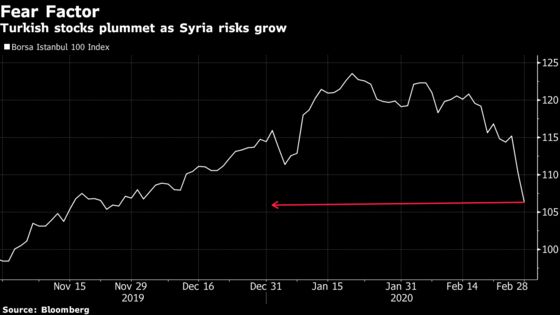 The risk of a full-blown conflict with Russia has weighed heavily on Turkish assets and contributed to a pull-out of foreign capital this year. Russia denied responsibility for an attack on Thursday that killed at least 33 Turkish troops, saying that the personnel had been "within the ranks of terrorist" groups that came under fire from Syrian forces.
The two nations later looked to contain the crisis. Presidents Vladimir Putin and Recep Tayyip Erdogan held "detailed" discussions on Idlib, Russian Foreign Minister Sergei Lavrov said Friday.
The Borsa Istanbul 100 Index was 4.6% lower as of 5:09 p.m. in Istanbul. The lira weakened 0.4% to 6.2345 per dollar, its fifth day off losses. The yield on two-year government notes jumped to 12.41%, the highest level since November.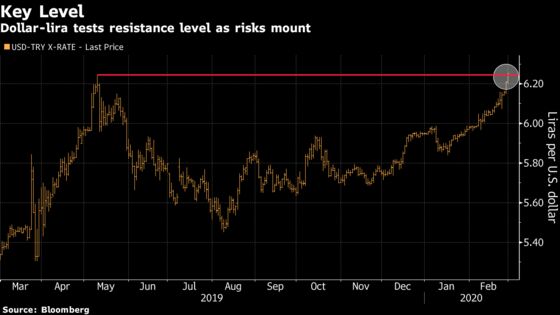 The Capital Markets Board banned short-selling in the Turkish stock market on Friday, it said in an emailed statement. It did not mention whether the ban would be extended into next week.
An aggressive monetary easing cycle and rundown in the central bank's currency reserves are only adding to headwinds for the nation's assets. The lira has weakened more than any other emerging market over the past three months despite a concerted effort to stem the slide though interventions.
Seeking to bolster hard-currency buffers, the central bank on Tuesday increased the amount of foreign exchange it can borrow from commercial lenders via swaps. It has borrowed $5.7 billion from this facility over the past week.
"It's difficult to be optimistic," said Nigel Rendell, a senior analyst at Medley Global Advisors LLC in London, pointing to uncertainties around Turkey's monetary policy and currency measures. "Without some breakthrough with the coronavirus, even a partial resolution of the Syrian crisis will not be enough to decisively swing sentiment around."