Turkish Banks Face More Restructuring Woes as Bad Loans Soar
(Bloomberg) -- More Turkish companies are seeking to restructure foreign debt, adding to the woes of banks as the regulator warns bad loans could almost double this year.
The ratio of non-performing loans to total credit could rise to 6 percent in 2019, the banking regulator has predicted. In the most recent data, the proportion already surged to 3.7 percent as of November, signaling that rising borrowing costs and the tumbling lira are starting to take a toll on corporate balance sheets.
Turkey's largest companies have either completed or sought almost $24 billion of loan restructurings as a result. The latest on the block is Konya, Turkey-based Anadolu Birlik Holding AS, known for its Torku food brand, which has started talks with lenders to rearrange part of its $2 billion debt pile, people with knowledge of the matter said.
Turkey's banking association and soccer federation announced a plan on Jan. 7 to restructure between 9.2 billion liras and 11 billion liras of debt ($2 billion) accumulated by several clubs including Galatasaray, Fenerbahce and Besiktas -- three major sides from Istanbul -- with 15 financial institutions. Restructured debt will have a maturity of as much as 10 years.
The lira's decline is threatening to put foreign-currency debt beyond the means of many to repay. Turkey's currency is the second-worst performer of all emerging-market currencies over the past year, losing almost a third of its value against the dollar.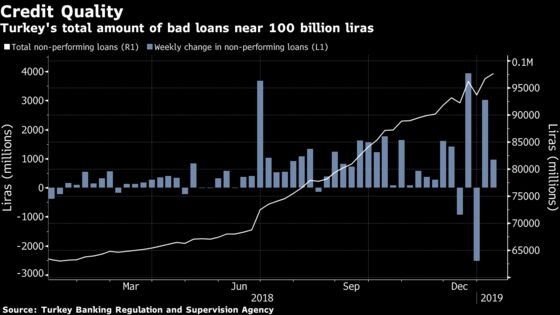 The combination of a slowing economy, weakening currency and rising bad loans is hurting the banking sector. The 13-member Turkish banks index fell 27 percent over the past 12 months, compared with a 16 percent drop in the Borsa Istanbul 100 Index. The banking gauge has started to recover this year, though, as low valuations and the need to cover short bets give investors a reason to buy.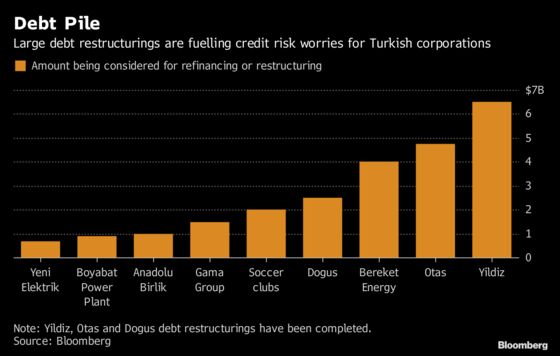 A well-structured bank recapitalization program is necessary to improve the health of Turkey's financial system, TEB Investment analysts Ovunc Gursoy and Mete Yuksel said in a report on Nov. 29.
The analysts expect the surge in NPLs in 2019 "to be mostly from the retail side as unemployment inches up in a slowing economy," they wrote. Still, a rise in restructurings will cap the NPL ratio, while deposits coupled with meager loan demand will prevent a liquidity crisis in the banking sector, according to the report.
Some of Turkey's biggest conglomerates are battling to avoid a debt crunch. Energy producer and distributor Bereket Enerji Uretim AS put some of its assets up for sale to help refinance or pay down more than $4 billion of debt.
Meanwhile, mostly Turkish banks completed three big-ticket restructurings totaling more than $14 billion in 2018: for Godiva chocolatier owner Yildiz Holding's $6.5 billion of loans; around $5.2 billion of debt for Turk Telekomunikasyon AS's previous owner Otas; and Dogus Holding's $2.5 billion of loans.
Others to be affected include:
Joint ventures with international partners: Italian energy firm Ansaldo Energia SpA and Turkey's Unit Investment, owned by businessman Unal Aysal, are said to have started talks to restructure $700 million in debts.
Gama Holding, an Ankara-based energy to construction group, has been negotiating with banks to restructure $1 billion of loans.
Construction group Astaldi SpA and its local partner Turkey's IC Yatirim Holding AS are also said to be in talks with Industrial & Commercial Bank of China Ltd. to refinance a $2.3 billion loan from 2013.