Turkey Takes Up the Fight for Venezuela's Embattled Maduro
(Bloomberg) -- Venezuela's President Nicolas Maduro has received full support from Turkey as he fights to retain control of his impoverished and restive country.
Turkish President Recep Tayyip Erdogan called Maduro to tell him Turkey stands by him after countries including the U.S., Canada and Brazil recognized opposition leader Juan Guaido as head of state. "Maduro, my brother! Stand tall, we are with you," Erdogan -- who himself survived a coup attempt -- told Maduro, according to Turkey's Presidential Spokesperson Ibrahim Kalin.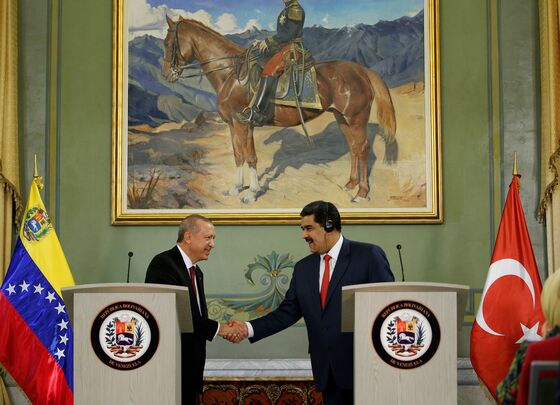 "Turkey will keep its principled stance against all coup attempts under the leadership of our President Erdogan. #WeAreMADURO," Kalin tweeted earlier on Thursday. #TurkeyWithMaduro and #WeAreMADURO became top-trending topics in Turkey on Twitter.
Another presidential aide, Cemil Ertem, slammed the U.S. on Twitter for supporting Guaido, the National Assembly president, after he unilaterally declared himself Venezuela's leader. "The U.S. and its allies' coup attempt in Venezuela will not be successful. Turkey will stand by Venezuelan people and Maduro," Ertem said.
Turkey has become one of Venezuela's most important backers in the midst of its desperation, their leaders both on the lookout for new allies as other longtime partnerships wither. Erdogan visited Caracas in December just two months after Maduro traveled to Istanbul, where he touched off a backlash at home for feasting on expensive Turkish steaks at celebrity chief Salt Bae's Istanbul restaurant while so many in his country are going hungry.
The repressive Maduro is presiding over one of the deepest economic and humanitarian crises modern Latin America has known. Conditions in oil-rich Venezuela, fueled by mismanagement and corruption, have turned desperate, with hunger and crime rampant, and refugees fleeing by the thousands. Mass demonstrations have spawned violent crackdowns.
Maduro still retains control of the security forces, the military, the courts, the treasury coffers and the state oil giant, making Guaido's claim to power largely symbolic, at least for now. But Maduro is under unprecedented pressure from Venezuelans who have taken to the streets in the biggest opposition protests in nearly two years in support of his rival.
In Caracas last month, Erdogan defended the emerging alliance with a country shunned by the U.S. over abuse and corruption, and said others wouldn't dictate who Turkey's friends and trade partners would be.
Tons of Venezuelan gold -- strip-mined under grim conditions in a desperate rush for cash -- are being shipped to Turkey for refinement and processing. U.S. officials say some of the gold may be making its way to Iran in violation of sanctions on the Islamic Republic. Maduro says the U.S. shouldn't interfere in Venezuela's trade with Turkey.
Erdogan met with Venezuela's Economy Vice President Tareck El Aissami at the presidential palace in Ankara last week. El Aissami visited a gold refinery in Turkey's central Corum province to improve "friendship and cooperation," according to Turkish state-run Anadolu Agency.