Turkey Signals Push for Deal on Maritime Boundary With Egypt
(Bloomberg) -- Turkey said it could reach a deal with Egypt on the boundary between maritime zones claimed by each nation in the gas-rich eastern Mediterranean if there's wider progress in healing their strained relationship.
Egypt signed a similar deal with Greece in August but it omitted a controversial area to the south of the island of Kastellorizo, the most distant Greek outpost that Turkey says lies within its exclusive economic zone. Turkish energy exploration in disputed Mediterranean waters has sparked confrontations with Greece, Cyprus and their European Union partners.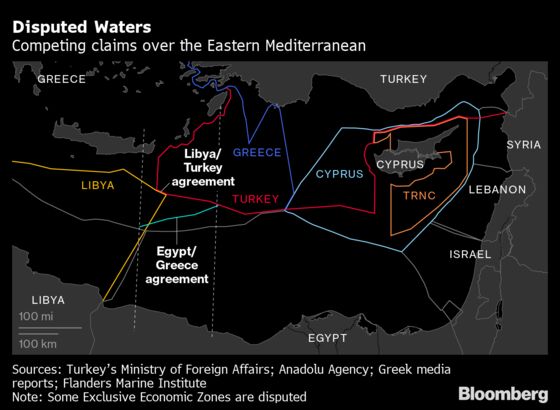 Relations between Turkey and Egypt have been severely strained since Egyptian President Abdel-Fattah El-Sisi toppled the country's Islamist leader, Mohamed Mursi, in 2013. Mursi was a member of the Muslim Brotherhood organization that's backed by Turkish President Recep Tayyip Erdogan and his Islamist-rooted party.
However, Erdogan's foreign minister, Mevlut Cavusoglu, on Wednesday signaled Turkey wanted to improve ties with Cairo.
Egypt's search for hydrocarbons respected Turkey's exclusive zone, Cavusoglu told reporters in Ankara. "According to the course of our relations, we can also sign an agreement with Egypt by negotiating maritime jurisdictions."