Turkey Seeks to Sideline EU in Maritime Disputes With Greece
(Bloomberg) -- Turkey said it was open to bilateral talks with Greece over territorial disputes in the Mediterranean and Aegean seas, rejecting a role for European Union powers that have backed Greek positions.
Defense Minister Hulusi Akar called on Thursday for dialogue with Athens without the involvement of third parties. In a televised interview with state-run Anadolu Agency, he accused France of violating international agreements by deploying warplanes in Cyprus in support of the Greek-Cypriot administration.
"If our Greek counterparts agree, we would like to host them here in the coming days,"Akar said. "We favor dialogue, let's talk, we want peace but we also want respect for our rights."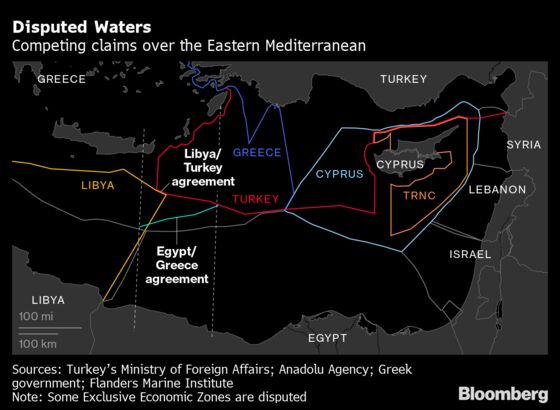 EU foreign ministers are expected to meet in Berlin on Friday to discuss the bloc's relationship with Turkey amid the heightened tensions in the energy-rich eastern Mediterranean. The region has become an energy hot spot with big natural gas finds for Cyprus, Israel and Egypt. Turkey's push to secure a share of the resources is deepening strains with EU members Greece and Cyprus.
German Foreign Minister Heiko Maas traveled to Athens and Ankara on Tuesday in an effort to put an end to the escalating conflict over the NATO allies' competing claims. He said ministers would give "special weight" to Greece's voice at their meeting. Speaking in Berlin on Thursday, Maas said that ending naval activity in the region was a condition for talks.
Akar, however, said Turkey would carry out its search for oil and gas in the eastern Mediterranean as long as necessary. "There is no deadline or limit for that," Akar said.
Greek government spokesman Stelios Petsas said Akar's statement on Turkey's intention to continue exploration activities contradicted his message of dialogue.
One "can't send an escalation message on the one hand and a de-escalation message on the other," Petsas said, adding that Greece was waiting for the Turkish side to express itself officially and refrain from "any provocative action in the region."
President Donald Trump, in a phone call with his Turkish counterpart Recep Tayyip Erdogan on Wednesday, said talks with Greece were the "only path to resolving their differences."
Tensions have been high as a Turkish seismic survey ship has searched for natural gas over the last two weeks in an area of the Mediterranean that Greece says is within its exclusive economic zone.
Greece and Cyprus have called for harsh sanctions against Turkey, which would threaten cooperation with the EU, including Ankara's critical role in containing the flow of refugees to Europe from the Middle East and Africa under a 2016 deal.
In the race for resources, Greece says that islands must be taken into account in delineating a country's continental shelf, in line with the UN Law of the Sea, which Turkey has not signed. Ankara argues that a country's continental shelf should rather be measured from its mainland.
Offshore gas reserves around Cyprus are especially nettlesome. The Republic of Cyprus is an EU member state and officially has sovereignty over the entire island.
But the island has been effectively divided since Turkey's military captured the northern third in 1974, following a coup attempt in which a military junta in Athens sought to unite Cyprus with Greece. The Turkish minority's self-proclaimed state in the north, recognized only by Ankara, lays claim to any energy resources discovered off its coast.