Turkey Lifts Ban on Lira Trading With BNP, Citi, UBS in U-Turn
(Bloomberg) -- Turkey lifted a ban on trading liras with BNP Paribas SA, Citigroup Inc. and UBS Group AG, a quick reversal just days after it imposed the restrictions that rippled beyond the currency market.
A spokesman for the banking regulator, known as BDDK, confirmed that the trading curbs -- which were imposed amid a market rout on Thursday -- had been reversed. In instituting the ban, the regulator said the global lenders had failed to meet local-currency obligations to their Turkish counterparts.
"Looks like they had second thoughts on this, maybe some more orthodox policy people in the administration convinced the BDDK that fighting foreign involvement in financial markets would not achieve anything," said Henrik Gullberg, a macro strategist at Coex Partners Ltd in London. "So from that perspective it might be a good sign."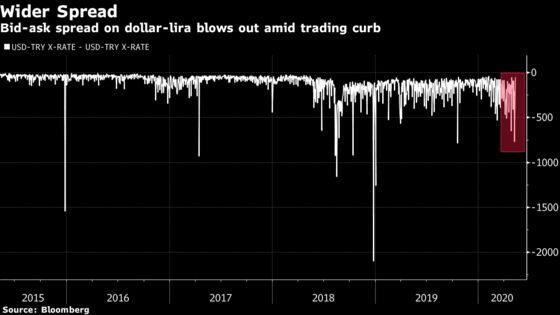 Ever since a currency crisis in 2018, Turkish authorities have made it increasingly difficult for foreign investors to bet against the lira by limiting their access to liquidity. But the clampdown has undermined investor confidence in the country's adherence to free-market principles and exacerbated capital outflows.
The move last week also coincided with a sell-off in the lira that pushed it to a record low. A slew of market interventions and new anti-manipulation rules designed to stem its decline only backfired, fanning speculation that Turkey was resorting to increasingly heavy-handed tactics to anchor its currency.
The about-face on Monday suggests an effort to limit the damage as the trading restrictions were distorting transactions across other lira instruments including equities, since Citigroup is among the biggest custodian banks for Turkish assets.
The regulator "was trying to use a sledgehammer to crack a walnut," said Timothy Ash, a strategist at BlueBay Asset Management. The ban raised the risk of collateral damage "to foreign institutional investors and local business clearing lira transactions through these banks."
In a sign of the increasing pressure on financial markets, state media last week blamed unidentified financial institutions for manipulative attacks on the currency while the watchdog expanded its definition of manipulative trades.
The foreign exodus from Turkish assets has so far continued unabated. According to the latest central bank data, non-resident investors have withdrawn more than $9.6 billion from local-currency bond and equity markets over the past 12 months, the most since at least 2015.
Investors are concerned about the central bank's ability to support the currency using its reserves, which have fallen by $20 billion since the start of the year to around $86 billion at end-April. Meanwhile, a monetary easing cycle has left the lira exposed to a global selloff, with Turkey's inflation-adjusted interest rates now among the lowest in the world.
The currency was little changed at 7.0910 against the dollar on Monday, having recovered from an all-time low of 7.2690 on Thursday. It has weakened more than 16% this year, the fourth-worst performance in emerging markets.
"Reversing the ban was a tacit admission of the damage wrought," said Julian Rimmer, a trader at Investec Bank Plc in London. "Turkey's central bank has a huge credibility deficit at present."