Turkey Proposes No Middle Ground in Impasse Over Russia Missiles
(Bloomberg) -- Turkey hasn't proposed stationing an advanced missile-defense system its buying from Russia in a third country as a way of defusing U.S. opposition to the purchase, Foreign Minister Mevlut Cavusoglu said late Tuesday.
The government in Ankara has though suggested to the U.S. and NATO creating a joint committee of experts to examine steps Turkey could take to limit the use of the S-400 missiles, he said, according to state-run TRT television. But "the U.S. still hasn't responded to the offer, whereas NATO wants it."
Turkey will make sure the system doesn't identify NATO assets as an adversary, he said. Cavusoglu met Defense Minister Hulusi Akar in Ankara on Wednesday to discuss the purchase of the S-400s, NTV television reported.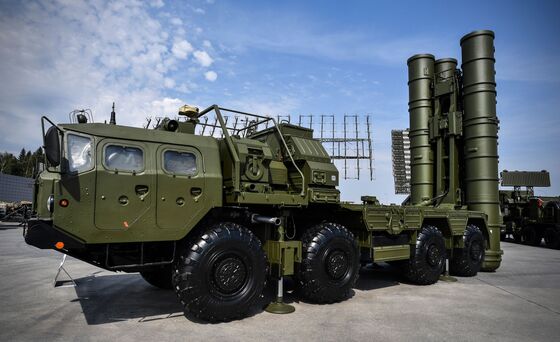 "Other than that, no middle-way formula has appeared on the agenda or was considered, but such hearsay is still floated in Ankara and beyond," Cavusoglu said, adding that Russia could sell the missiles to a third country if it wanted.
Russia to Start Sending S-400s to Turkey in July, Interfax Says
Turkey's pro-government media have suggested that Ankara could temporarily deploy the missiles in neighboring Azerbaijan or Qatar to escape sanctions threatened by the U.S. for purchasing a missile system that could compromise the safety of the next generation F-35 warplanes that Turkey's helping to build.