Turkish Home Sales to Foreigners Surged in 2018 as Lira Crumbled
(Bloomberg) -- Turkish home sales to foreigners last year surged at more than triple the pace in 2017 as buyers flocked to benefit from a weaker local currency.
Sales to foreign nationals climbed 78 percent last year to almost 40,000 units, compared with an increase of 22 percent in 2017. Iraqis were the top buyers with 8,205 units, followed by Iranians and Saudis, according to data published Wednesday by the statistics office in Ankara.
In December, the government boosted incentives for foreign home buyers, offering citizenship to those who spend at least $250,000 on property. The lira was the world's third-worst performer last year after weakening 28 percent against the dollar.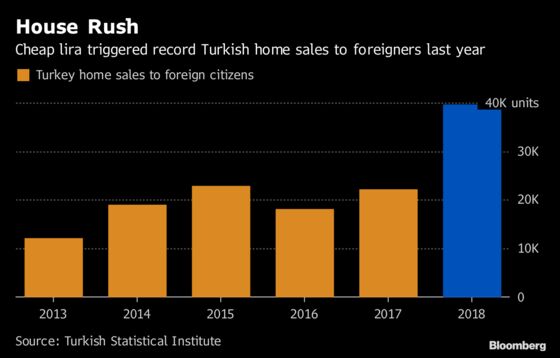 By contrast, home purchases by Turks declined 2.4 percent to 1.38 million units, as rising interest rates took a toll on sentiment. Sales funded with a mortgage comprised 20 percent of the total, down from 34 percent in 2017.
The weighted average rate on housing loans almost doubled since the start of the year to 27.4 percent at end-2018.