Turkey Has New Plan to Crack Open Under-the-Mattress Gold Hoard
(Bloomberg) -- Turkey has a new plan to coax gold to its financial system after previous efforts barely made a dent in a so-called under-the-mattress stash valued at about 40% of gross domestic product.
The Turkish Treasury and the Istanbul Gold Refinery will let selected jewelers collect gold from citizens and deposit it at state banks. A major difference under the new regulations is that customers would be able to withdraw physical gold, according to Aysen Esen, the refiner's chief executive officer.
Read more: Turks Joined Global Gold Buying Spree to Widen Trade Gap by 170%
Previous attempts to get gold into the system have largely failed. Some 100 tons have been pulled into lenders' gold accounts over the past decade, according to Esen, compared with an estimated 5,000 tons stored elsewhere in the country.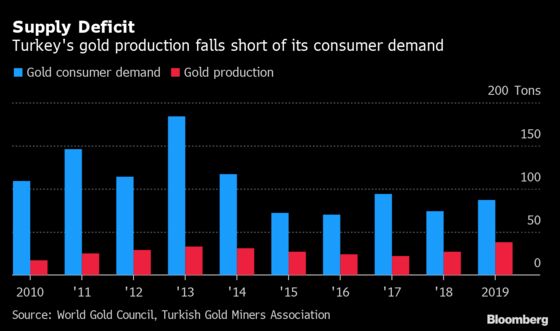 Turkey is one of the biggest consumers of the precious metal worldwide. Turks use gold as protection against inflation and traditionally gift it for events from weddings to circumcision ceremonies. It's also used to pay rent by merchants at Istanbul's Grand Bazaar, one of the world's oldest covered markets.
Present rules allow bank customers to receive an equivalent lira amount for their bullion accounts at the current gold price. No intermediaries can operate under the existing system between banks and clients, which has a smaller reach than jewelers who host open "gold days" where people bring in coins and jewelry to be evaluated by experts.
The refinery, Turkey's biggest, has been working on a gold valuation system for almost five years and developed software worth "millions of dollars" to help jewelers assess value, Esen said. Test runs began in July with three state banks and their Islamic-banking subsidiaries.
The refinery has so far designated 70 jewelers across 20 provinces, and aims to increase that to 1,000 in 81 provinces.
The stockpile of gold has grown this year as weeks of frenzied purchases followed the latest wave of currency depreciation. The surge in demand pushed Turkey's trade gap to the widest in more than two years in August, driven by a fivefold rise in gold imports. It also prompted the Treasury to issue more gold-based bonds.
"Despite periodic ups and downs, we see that savers constantly go for gold," Treasury and Finance Minister Berat Albayrak told Bloomberg. "We have focused on gold-denominated sales, with the objective of attracting into the financial system the savings that are currently outside, the so-called under-the-mattress savings."