Turkey Gets Soaring Diesel Bill as Lira Slump Lifts Fuel's Price
(Bloomberg) -- It's never ideal to be structurally short of (dollar-traded) diesel when your currency's collapsing.
Turkey's trade deficit in fuels -- largely thanks to heavy diesel imports -- stood at about $6.1 billion last year, according to ITC Trade Map, a United Nations/World Trade Organization venture.
With wholesale prices surging in dollar terms, and the lira hitting a record low, diesel in domestic currency terms is skyrocketing, leaving the government with a stark choice: Pass on the soaring bill, or cushion the blow for consumers. Perhaps unsurprisingly given an election's due to take place next month, Turkey's chosen the latter, reducing a special consumption tax in order to shield consumers from the rising cost of diesel and gasoline.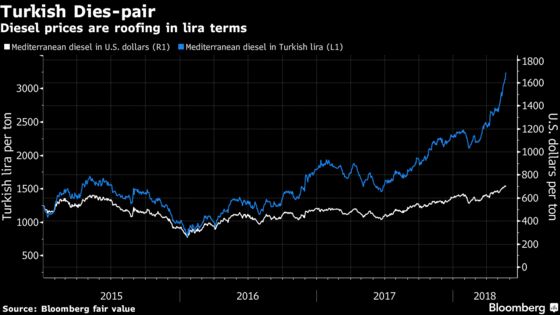 The hit to Turkey's government is twofold: foregone tax revenue and higher costs for a fuel that powers its economy. Countries including Brazil and India are grappling with similar challenges.
There's hope though. The construction of the STAR refinery in western Turkey's Izmir is almost complete and will cut the country's current account deficit by $1.5 billion as imports are lowered, the Daily Sabah reported Tuesday. Still, that'll probably mean a greater inflow of crude instead.