Turkey Asks for Consulate Search in Case of Missing Saudi Critic
(Bloomberg) -- Turkey asked Saudi Arabia's permission to search its Istanbul consulate where a critic of the kingdom was last seen alive, his mysterious disappearance injecting new complications into the Sunni powers' already fraught relations.
It wasn't clear whether the Saudi ambassador responded to the Turkish request on Monday, which was reported by CNNTurk. Saudi Crown Prince Mohammed Bin Salman told Bloomberg on Wednesday that Jamal Khashoggi, a U.S.-based Saudi journalist who wrote columns for the Washington Post, had left the building shortly after entering it a week ago, and that he was prepared to let Turkey search it.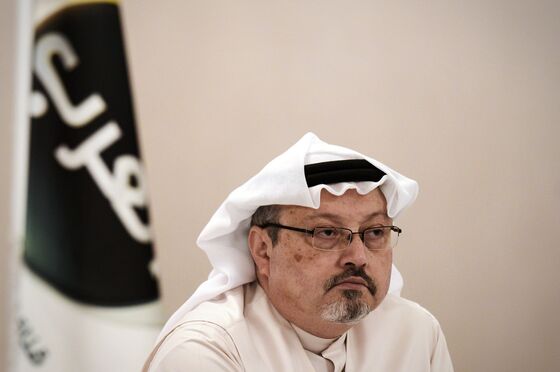 A Turkish official, speaking anonymously and without providing evidence, has said Khashoggi was murdered inside the consulate, a claim the Saudi government has vehemently denied.
Turkey's entanglement in Khashoggi's disappearance is just the latest snarl in its uneasy ties with Saudi Arabia. The kingdom opposes Turkey's support of political Islam and sometime coziness with Shiite Iran, while Ankara has sided with Qatar in a major diplomatic dispute with a Saudi-led coalition.
At the same time, Ankara and Riyadh also find themselves aligned on certain regional issues -- opposing Bashar al-Assad's continued rule in Syria, for example. Ankara may also be loathe to become embroiled in a feud with oil-rich Saudi Arabia at a time when Turkey's economy is in churn over soaring inflation, investor jitters about central bank independence and recent U.S. sanctions. Turkey exported $2.9 billion in goods to Saudi Arabia in 2017 and ran a trade surplus of $800 million.
Turkish President Recep Tayyip Erdogan addressed the Khashoggi case with restraint on Sunday, saying he was holding out hope.
Cinzia Bianco, Middle East and Gulf analyst for Gulf State Analytics in London, said if Khashoggi's case is not resolved quickly, relations between Turkey and Saudi Arabia will "deteriorate further but to what extent it's not clear." The two nations still need to cooperate in certain areas, she noted, singling out Syria, where Turkey is the only regional Sunni player with boots on the ground.
If evidence implicates the Saudi government in Khashoggi's disappearance or death, it would also indicate a new level of violence that authorities are willing to undertake to silence criticism of Prince Mohammed, whose jailing of opponents at home has undercut his efforts to fashion himself as a modernizer of his conservative country. U.S. senators have already suggested that if the allegations of murder are confirmed, then Saudi Arabia should expect repercussions.
Khashoggi, 59, a onetime adviser to Saudi royals who had been living in self-imposed exile for the past year, hasn't been seen or heard from since he went into the consulate on Oct. 2 to get documents that would allow him to marry a Turkish woman. His fiancee and friends initially said they feared he was detained or kidnapped over his criticism of the Saudi government.
Germany, which ended its yearlong rift with the kingdom last month, weighed in on Khashoggi's disappearance Monday, with Foreign Ministry spokesman Christopher Burger expressing concern about his fate and calling for a swift resolution to the case.
About a dozen of Khashoggi's friends gathered outside the Saudi consulate on Monday, holding pictures of him dressed in the traditional Saudi white thobe, or robe. They included Ayman Nour, a former candidate for Egypt's presidency, and Tawakkol Karman, a Yemeni journalist, politician and a co-recipient of the Nobel peace prize for her role in her country's Arab Spring protests.
"He has vanished because he has told the truth," Karman said. "We call for an international investigation committee."
Khashoggi vanished at a time when President Donald Trump is pressing Saudi Arabia hard to do more to ease oil prices. If he was murdered by Saudi agents as alleged by the Turkish official, there were signs it may cause additional tensions with the U.S. Senate, despite the generally warm ties between Riyadh and Trump's Washington, which shares Saudi Arabia's animus toward Iran.
"I pray Saudi journalist Jamal Khashoggi is alive," Senator Marco Rubio, a Florida Republican, said Sunday on Twitter. "But if this deeply disturbing news report is confirmed, the United States & the civilized world must respond strongly, and I will review all options in Senate."
The case has focused new attention on what critics say is a broad crackdown on dissent under Prince Mohammed that has coincided with his attempts to liberalize Saudi society and create a more dynamic economy less reliant on oil. The government has arrested dozens of clerics, academics, writers, feminists, businessmen and journalists, but Prince Mohammed told Bloomberg that was a small price to pay for peacefully eradicating extremism in the world's top oil exporter.
"The Gulf Kingdom routinely uses draconian laws to crack down on peaceful dissent at home, and has even arrested dissidents abroad in the past," human rights group Amnesty International said in a statement. "But the enforced disappearance – and now reported assassination – of one of its citizens who had sought asylum abroad should set alarm bells ringing."