Tunisians Protest as Saudi Crown Prince Continues Regional Tour
(Bloomberg) -- Several hundred protesters rallied in the Tunisian capital on Tuesday to chant against Saudi Crown Prince Mohammed bin Salman, who landed in the North African country as part of his first regional trip following the murder of columnist Jamal Khashoggi.
MBS, as the power behind the Saudi throne is known, had already visited the United Arab Emirates, Bahrain and Egypt before Tunisia, the cradle of the 2011 Arab Spring uprisings and the Arab country with the freest press and protest laws. Tunisian presidency official Ayda Kelibi confirmed his arrival.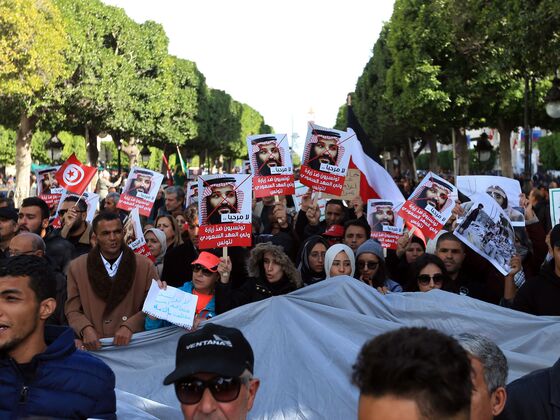 The tour is likely calculated to show it's business as usual for the prince since the murder of Khashoggi at the kingdom's consulate in Istanbul last month provoked an international outcry and strained ties with some western countries.
Marching through central Tunis, the protesters chanted "the people demand the expulsion of the butcher." One woman held up a placard with an X scrawled over a portrait of Prince Mohammed, and in the other hand a bone saw, alluding to the dismemberment of Khashoggi.
It was the second day of protests after several dozen activists rallied outside the Municipal Theater in Tunis Monday evening after the country's Journalists Syndicate and other civil society groups called for demonstrations.
"We will take a stand against this visit using all forms of protest," syndicate member Sakina Abdel Samad said at a press conference with 11 other civil society groups.
Prince Mohammed was received by Tunisian President Beji Caid Essebsi. "The Tunisian people are very dear to the Saudis," the prince told Tunisian state television after the two met at the presidential palace, adding he viewed Essebsi as his "father."
Tunisian activists had unsuccessfully tried to have a court bar the prince from the country.
Saudi Arabia says the 33-year-old de facto ruler was not aware of any plan to kill Khashoggi, who went into exile last year and had been writing columns for the Washington Post criticizing the prince's policies. The prosecution has charged 11 people over the murder and is investigating a close aide to Prince Mohammed.
The prince also plans to attend the Group of 20 summit in Argentina within days, according to the Saudi-owned Al Arabiya television. President Donald Trump said he'd meet Prince Mohammed at the event. Also present will be Turkish President Recep Tayyip Erdogan, who has pressured Saudi Arabia to punish whoever ordered the killing.
The controversy has prompted some U.S. lawmakers to demand sanctions, though Trump has said he will not allow it to upend relations, citing the potential impact on oil prices, weapons sales and U.S.-led efforts to curb Iranian influence in the region.