Trump Warns of More Coronavirus Cases as New, Rapid Tests Ship
(Bloomberg) -- President Donald Trump warned Americans to expect more coronavirus cases in the weeks ahead, as the U.S. deploys tens of millions of new, rapid tests that don't require laboratory equipment to analyze.
"As younger and healthier people return to work, and as we massively increase testing capacity, we will identify more cases in asymptomatic individuals in low-risk cases. This should not cause undue alarm," Trump said at an event Monday in the White House Rose Garden.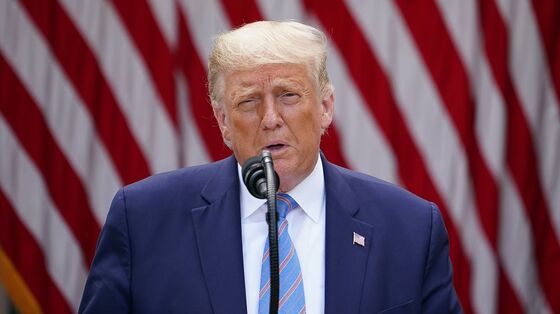 "The total number of cases is not the full metric of success," Trump said. "Hospitalization capacity and mortality rates are far more instructive metrics. As we do more tests, you're going to have automatically more cases."
The federal government announced that it will be distributing 150 million of the new tests, made by Abbott Laboratories, including 100 million that will be sent to states. Trump wants governors to use the rapid tests in nursing homes and assisted living facilities and to resume in-person instruction in schools.
The country surpassed 100 million Covid-19 tests as of last week, Trump said. But public health experts say the U.S. needs even more testing as the virus continues to circulate widely across the country.
Most Americans give Trump poor marks on his handling of the pandemic, which is weighing heavily on his re-election campaign. He trails former Vice President Joe Biden in polls both nationally and in many battleground states.
"In a short period of time, my administration has built the most advanced testing system in the world, there's never been anything like this," Trump said.
The White House will encourage states -- which have ultimate discretion over how to deploy the tests -- to use about 100 million to screen teachers, check symptomatic children to see if they have contracted the virus, or conduct baseline surveillance. It's up to states to decide how to use the tests.
The remaining BinaxNOW tests will go to protect populations vulnerable to the virus, including about 18 million for nursing homes, 15 million to assisted living centers and 10 million tests for home health care and hospice. About a quarter of the more than 200,000 pandemic deaths in the U.S. have been connected to long-term care facilities.
Trump's warning that more cases are ahead was echoed by Vice President Mike Pence., who said "the American people should anticipate that cases will rise in the days ahead."
Pence added that the U.S. has "capacity" to conduct three million daily tests, though there are not nearly so many actually being performed. The country has recorded generally between 800,000 and one million daily tests in recent weeks, according to Johns Hopkins University.
The Abbott test has been lauded as a breakthrough by public health officials. A single-use device about the size of a credit card, the test provides results within just 15 minutes without using any laboratory equipment, so it can be administered almost anywhere.
Admiral Brett Giroir, the administration's Covid-19 testing chief, demonstrated the test on himself at the news conference to show its ease.
"Good luck, I hope you don't test positive," Trump joked.
After swabbing his own nose and conducting the test, Giroir remarked that "this is a very sophisticated little piece of cardboard."
The federal shipments to states come from an order of BinaxNOW tests the government previously arranged to buy. The purchase from the U.S. represents almost all the tests Abbott plans to produce this year.
The commitment will force states to make choices. They'll essentially receive enough supplies to test one in three Americans once. Public health experts say more widespread and regular testing is required to detect and stop future outbreaks.
The move may help the administration counter criticism for its failure to put in place a coordinated, national testing effort like those that have helped Germany and South Korea control the pandemic. Adding to the confusion have been changing U.S. guidelines on testing that are sometimes at odds with the advice of public health officials and experts.