Trump Tariff Threat Jolts Car-Parts Giant Eyeing China Expansion
(Bloomberg) -- Japan's biggest auto-parts supplier has joined the industry chorus warning of disruptions from President Donald Trump's proposed tariffs on cars and components.
Denso Corp., whose $37 billion market value exceeds Fiat Chrysler Automobiles NV, sees the threat of U.S. tariffs of as much as 25 percent and reciprocal levies from trade partners as a "grave concern," Executive Director Yasushi Matsui said in an interview. The duties are set to hit right as Denso readies an expansion in China, along with a war chest worth at least $9 billion for investments aimed at broadening its business beyond top customer Toyota Motor Corp.
"A trade war is not the correct course," Matsui said last week at Denso's headquarters near Toyota City, about halfway between Tokyo and Osaka. "As long as the rules are free and fair, we have confidence we won't lose to anyone."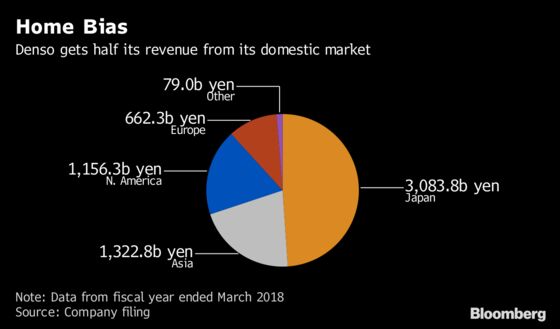 The U.S. will impose tariffs on $34 billion of Chinese goods on July 6 -- unless Trump walks back his hard-line stance -- and China will the same day impose countervailing levies on products including car imports from the U.S.
Trump's administration is also considering additional tariffs of up to 25 percent on national security grounds, prompting companies from Toyota and General Motors Co. to Continental AG and Magna International Inc. to warn of higher prices for consumers, less investment and fewer jobs. Denso imports parts from Hong Kong, making the possible levies a direct concern.
The fate of North American Free Trade Agreement is also a worry because Denso components crisscross the U.S.-Mexico border multiple times, Matsui said, and the company is currently trying to calculate the potential cost should the agreement get torn up.
Escalating trade friction creates a quandary just as Denso considers spending billions of dollars in acquisitions or investments to procure new technologies and skilled staff aimed at strengthening its position in autonomous driving and vehicle electrification.
Denso could pay as much as a trillion yen ($9 billion) "in one shot" for the right company, but targets on the scale of tens of billions of yen are more likely, Matsui said. Denso also aims to increase venture investment to as much as 10 billion yen annually, he said.
Denso sees the maturing of automated-driving and electric-car technologies as a chance to increase its customer base. From near-total dependence on Toyota in those areas now, Denso aims to have 20 percent to 30 percent of business related to automated driving from outside Toyota by 2020, Matsui said.
Other highlights from the Matsui interview:
China's position at the forefront of the electric-vehicle revolution means expansion there is a must, either by enlarging factories or building new ones, Matsui said
Denso's sensitivity to currency swings is too high, with one-yen fluctuation in the dollar-yen rate increasing or decreasing profit by about 3 billion yen; company will therefore seek to localize more production
Denso targets profit margin of about 8 percent in North America by about 2020 from 4 percent currently
Company intends to keep dividend payouts at about 35 percent of net income and targets share buybacks of 20 billion yen to 30 billion yen annually, in line with previous years