Trump Snubs Putin as Russia Probe Draws Nearer
The White House cited Russia's recent clash with Ukraine for the cancellation, announced en route to the summit in Argentina. But it's impossible to disentangle the move from events that transpired just hours earlier when the president's long-time attorney Michael Cohen pleaded guilty to lying to Congress about Trump's plans for a real-estate project in Moscow in 2016.
Cohen's plea takes Special Counsel Robert Mueller's probe into the heart of Trump's relationship with Russia during the height of the election campaign. It raises fresh questions about whether Russia holds "kompromat" that could be used as leverage against the president, and dispels any hope Trump may have had that the investigation wouldn't color his G-20 meetings.
Senior Russian officials were taken aback by Trump's snub – his second nixed meeting with Putin in less than a month – with one describing it as "really bad," Jennifer Epstein, Ilya Arkhipov and Nick Wadhams report.
After Trump's widely panned performance alongside Putin at their July summit in Helsinki, the risk of a sit-down right now may have just been too high.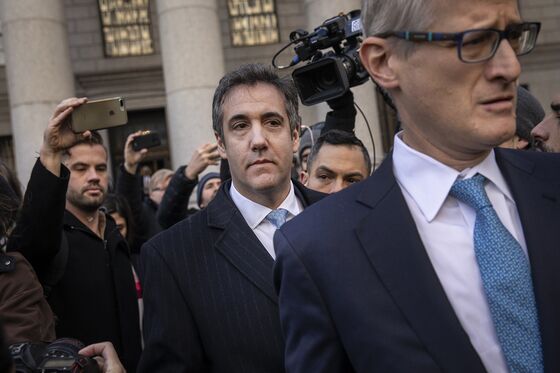 Mid-air drama | Chancellor Angela Merkel will arrive a day late to the G-20 summit, missing meetings planned with Trump and Chinese President Xi Jinping, after her plane was forced to return to Germany with a serious electronics failure. Arne Delfs sets out the drama that unfolded less than an hour into the flight, piloted by an experienced Air Force captain. While a German media report said authorities were investigating a possible criminal act, the air force is blaming a technical fault.
A big dinner | Trump and Xi are preparing for their first face-to-face meeting in more than 12 months, a high-stakes bid to keep trade tensions from spiraling into a new cold war. As Peter Martin and Saleha Moshin report, the two leaders head into tomorrow's tete-a-tete dinner at the G-20 with very different goals – dimming prospects for a grand bargain that could ease investors' concerns.
Dark arts | The U.K. government official in charge of ensuring Conservative lawmakers back Prime Minister Theresa May's Brexit deal keeps a pair of whips on display in his office, Robert Hutton and Kitty Donaldson report. Chief Whip Julian Smith seems to be relying more on gentle persuasion than torture to woo rebels before the crucial Dec. 11 vote in Parliament, although there's little sign it's working so far and almost nobody believes May will win. She warned reporters the U.K. faces "more division" if the agreement is rejected.
Rural anger | Tens of thousands of farmers are heading toward parliament in India's capital today, demanding debt waivers and better crop prices. The giant two-day protest in New Delhi underscores the challenges facing Prime Minister Narendra Modi before national elections next year, with about 800 million of India's 1.3 billion people depending directly or indirectly on farming.
Christmas gift | Venezuela's President Nicolas Maduro raised the minimum wage for the sixth time this year, by 150 percent to 4,500 sovereign bolivars from tomorrow — or $9.50 per month at the black market rate. With Christmas approaching, it's "a gift for large working families," he said. Venezuelans struggling with annual inflation of nearly 200,000 percent amid the country's worst-ever economic crisis are unlikely to cheer.
Trump's revised trade deal with Mexico and Canada is set to be signed today in Argentina. All three leaders will turn up, though issues over steel and aluminum tariffs remain and the pact needs to be ratified by lawmakers.

May plans to tell other G-20 leaders her Brexit agreement is good for the global economy, a claim at odds with analysis carried out by her own economic advisers.

Also at the G-20, there is a sideline gathering of "BRICS" nations (Brazil, Russia, India, China and South Africa) and of European leaders concerned about preserving the global rules-based trading system.
And finally … French President Emmanuel Macron sipped coffee and discussed literature during an "enchanted break" with a group of Argentine writers and thinkers at a Buenos Aires bookshop yesterday. He still writes every day, and when he's finished being president "I'll come back to the truth,'' Macron said during the impromptu salon that offered him a respite from thinking about "Yellow Vest" protests in France. "But I don't know when that will be.''