Trump Scoffs at Report North Korea Has Undeclared Nuclear Sites
(Bloomberg) -- President Donald Trump played down concern about a new report that identified thirteen undeclared North Korean missile bases, saying that the U.S. was fully aware of them and suggesting that negotiations with the country remain on track.
"We fully know about the sites being discussed, nothing new - and nothing happening out of the normal," Trump tweeted on Tuesday. "I will be the first to let you know if things go bad!"
The 13 sites are among an estimated 20 bases, small and dispersed across the country, that are believed to have underground facilities containing mobile launchers that can be quickly dispersed to other locations, according to the report from Beyond Parallel, a group at the Center for Strategic and International Studies in Washington.
Although not designed as launch sites, the bases could be used to launch short-range as well as intercontinental ballistic missiles, according to the report.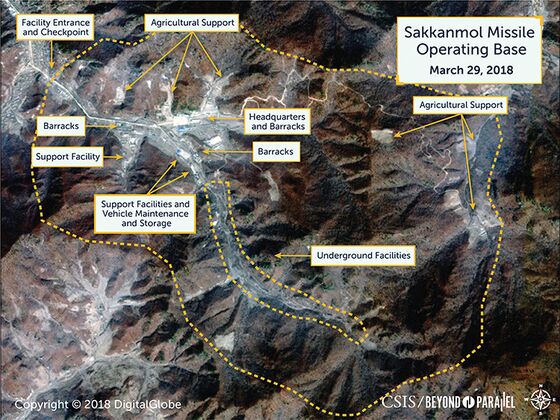 The report's findings, which were first disclosed by the New York Times, appeared to undermine the Trump administration's claims that its outreach to Pyongyang is making progress in getting Kim Jong Un's regime to give up its nuclear weapons program. But experts argue that the country hasn't made any commitment to dismantle such missile bases yet, so the fact that it would maintain them doesn't in itself represent a breakdown in talks with the U.S.
Trump's directed his tweet at the New York Times story. That report said that while U.S. intelligence knew about the bases, their existence suggested "a great deception" because the country was improving some sites while offering to dismantle another major launching site.
"Just more Fake News," he said.
The existence of the bases -- which presumably would have to be declared and then dismantled under the U.S. goal of North Korean "denuclearization" -- suggests that Pyongyang's previous efforts to dismantle known missile launch sites or nuclear facilities had little impact on its nuclear program.
"The dispersed nature, small size of operating bases, and tactics and doctrine employed by ballistic missile units provide the best chances for their survival given the KPA's technology and capabilities," according to the report, using an acronym for the Korean People's Army.
The report comes as talks between the U.S. and North Korea hit another snag last week, with a New York meeting between Secretary of State Michael Pompeo and the top negotiator from Pyongyang canceled at the last minute. Trump, who's cited North Korea's yearlong freeze on nuclear weapons tests and ballistic missile launches as signs of progress, chalked up the change to a scheduling conflict, adding, "We think it's going fine, we're in no rush."
In past tweets, he's also said that the Iran nuclear threat is over.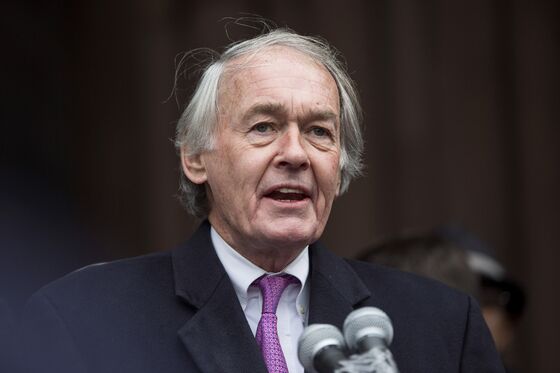 Senator Edward Markey, a Massachusetts Democrat who sits on the Foreign Relations Committee, said in a statement that Trump was "getting played by Kim Jong Un."
"We cannot have another summit with North Korea -- not with President Trump, not with the secretary of state -- unless and until the Kim regime takes concrete, tangible actions to halt and roll back its nuclear weapons and ballistic missile programs," Markey said in a statement Monday.
South Korean officials also played down the report's findings, as did John Bolton, the U.S. national security adviser.
"I don't comment on matters that may or not pertain to intelligence," Bolton told reporters Tuesday on the sidelines of regional summits in Singapore. "Obviously, we're very well aware of what's going on in North Korea."
Bolton said Trump was still interested in meeting Kim again. "We have indicated to the North Koreans that the president is prepared to have a second summit with Kim Jong Un after the first of the year," Bolton said.
A spokesman for South Korean President Moon Jae-in described the CSIS report to reporters as "nothing new," adding that describing North Korea's missile activities as deceptive risked hindering diplomacy. The spokesman, Kim Eui-keum, said that Pyongyang had never agreed to shut down its short-range missile bases.
While the administration seeks to continue its "maximum pressure" campaign against Kim's regime, momentum is building to ease international sanctions put in place last year, a move the U.S. is struggling to resist. On Thursday, Russia called a meeting of the United Nations Security Council to take up its request for humanitarian exemptions to international sanctions on Pyongyang. The U.S. said it would vet Russia's list, but administration officials have previously said Moscow is already violating the restrictions.
The facilities identified in the new report are in strategic locations that would put missiles in range of South Korea and Japan, according to the report. Some are likely to house missiles that could reach the continental U.S. when they become deployed. For decades, the bases have been camouflaged to prevent destruction from preemptive strikes and during military operations.
The report singled out a base known as Sakkanmol, about 50 miles (80 kilometers) north of the demilitarized zone and one of the closest to South Korea. The base, located in mountainous terrain, contains a unit equipped with short-range ballistic missiles, the report said, and could house medium-range ones. As of this month, "the base is active and being reasonably well-maintained by North Korean standards" with minor infrastructure changes.