Trump Greenlights Next Round of Farm Payments in China Trade War
(Bloomberg) -- The Trump administration will move forward with plans to distribute a second round of payments to farmers caught in the crosshairs of a trade war with China.
"Today I am making good on my promise to defend our farmers and ranchers from unjustified trade retaliation by foreign nations," President Donald Trump said via Twitter Monday.
In July, his administration announced it would deliver as much as $12 billion in aid to farmers after Beijing slapped retaliatory tariffs on U.S. agricultural products, including 25 percent duties on soybeans. Nations including Mexico had also taken trade action against U.S. farm goods this year.
Farmers form part of the rural base that helped catapult Trump into the White House. The administration distributed some $4.7 billion in the first round of direct government aid. With tensions between Trump and China showing signs of thawing, there was uncertainty within the agriculture industry as to when or if the second round would be distributed.
In a statement Monday, the U.S. Agriculture Department put the total payment at $9.57 billion.
In Iowa last week, Deputy Secretary Steve Censky said the USDA had been having a "little bit of disagreement" with the Office of Management and Budget over the payments and that Agriculture Secretary Sonny Perdue would be appealing directly to Trump on the payments.
Censky said it was the idea of the Office of Management and Budget, headed by Mick Mulvaney, whom Trump announced would be his acting chief of staff, to split the so-called market facilitation payments into two "to see if some of that retaliation went away."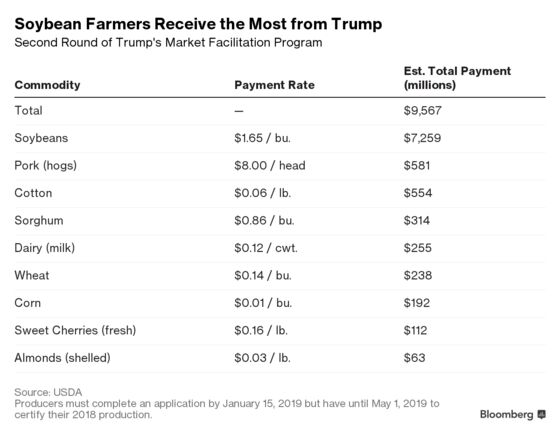 On Thursday, the USDA reported sales of 1.1 million metric tons of soybeans to China. To put the purchases in perspective, China buys 30 million to 35 million tons of U.S. soybeans in a normal year, according to Censky, underscoring the need for the second round of payments.
The USDA on Monday reiterated earlier plans to spend $1.2 billion on farm products to help boost prices and said that it plans to continue purchasing throughout 2019. It also reiterated its goal to spend $200 million promoting agricultural exports.
Payments to soybean farmers are estimated to total $7.3 billion, or about 76 percent of the total, according to the USDA. Hog producers are the second-biggest beneficiary with about $581 million.
The payments are limited to a combined $125,000 per person for corn, cotton, sorghum, soybeans and wheat. They're capped at the same figure for dairy and hog producers, as well as sweet cherry and almond growers.
"While there have been positive movements on the trade front, American farmers are continuing to experience losses due to unjustified trade retaliation by foreign nations," Perdue said in the statement Monday.
Payments to corn farmers were estimated at about $192 million, which the National Corn Growers Association called "virtually no relief."
"Farmers of all crops have felt the impact of trade tariffs," Lynn Chrisp, president of the corn group, said in a statement. "NCGA appreciates the progress the administration has made to advance ethanol, reach a new agreement with Mexico and Canada and move forward on negotiations with Japan, but the benefits of these efforts will take time to materialize and farmers are hurting now."