Trump Says U.S. Open to New Iran Deal as Sanctions Set to Return
(Bloomberg) -- President Donald Trump said the U.S. remains open to reaching a comprehensive deal with Iran that blocks its nuclear-weapons program, just days before sanctions on the country's energy and shipping sectors kick back in.
"Our objective is to force the regime into a clear choice," Trump said in a statement released by the White House on Friday evening, referencing the resumption of sanctions on Monday. "Either abandon its destructive behavior or continue down the path toward economic disaster."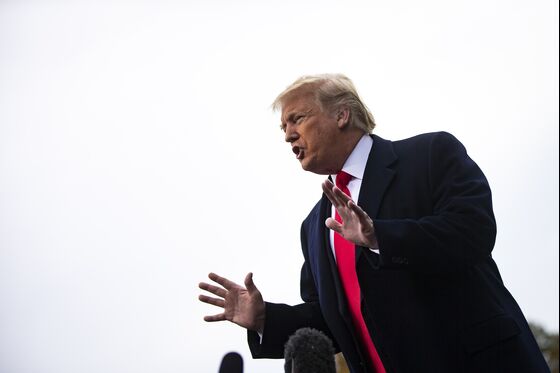 He added that the penalties were aimed at the Tehran government, "not at the long suffering Iranian people."
"For this reason," Trump said, "we reiterate today that the sale of food, medicine, medical devices, and agricultural commodities to Iran has long been, and remains, exempt from the sanctions."
Trump's decision to withdraw from the 2015 nuclear agreement infuriated Iran as well as the other countries that negotiated the deal and who still say it's the best chance to constrain the Islamic Republic's nuclear ambitions. But the U.S. has rebuffed them and gone ahead with its sanctions plan, arguing that nations, banks and businesses worldwide will decide they'd rather do business with the U.S. than Iran.
The administration's strategy is to punish Iran so severely that it's compelled to negotiate a permanent end to its nuclear ambitions as well as what the U.S. calls its "malign behavior" in the Middle East.
"The United States remains open to reaching a new, more comprehensive deal with Iran that forever blocks its path to a nuclear weapon, addresses the entire range of its malign actions, and is worthy of the Iranian people," Trump said in the statement.
Secretary of State Michael Pompeo said earlier Friday that the U.S. would grant eight temporary waivers for countries to keep importing Iranian crude oil after sanctions snap back on Monday.
The decisions on waivers is part of the administration's balancing act to get tough on the Iranian government while also trying to ensure that global oil prices don't soar.
But Pompeo and Treasury Secretary Steven Mnuchin have also had to fight a rearguard action against hard-liners in the administration including John Bolton, the national security adviser. Bolton has argued that the waivers -- and a decision not to bar Iranian banks from the global Swift financial messaging system -- were too generous toward Iran, according to a person familiar with the administration's internal debate.
A senior administration official said Japan, India and South Korea were among those getting waivers. China -- the leading importer of Iranian oil -- is still in discussions with the U.S. on terms, but is among the eight, according to two people familiar with the discussions who also asked not to be identified. Others could include Taiwan and Turkey.
The European Union as a whole won't get a waiver, Pompeo said.
After Trump withdrew from the nuclear accord, European governments vowed to try to preserve the agreement and find ways to continue trading. The region's intake of Iranian crude has nonetheless wilted. Companies like Total SA and Royal Dutch Shell Plc have halted purchases because the risk of being frozen out of the U.S. financial system is simply too great.
In a joint statement on Friday, the European Union's high commissioner and the finance and foreign ministers from the U.K., Germany and France said they "deeply regret the further re-imposition of sanctions by the United States." They said they will work "to protect European economic operators engaged in legitimate business with Iran," including preserving "effective financial channels" and continuing "Iran's export of oil and gas."
Global benchmark Brent crude has fallen about 15 percent from more than $85 a barrel last month on increasing speculation that at least some nations would get waivers, as well as signs that other OPEC members will pump more to offset any supply gap.